by Sabine
My Time with Flat Jackie
29th November, 2008
This afternoon Flat Jackie arrived at my house. At once he wanted to know what I had planned for him and when he heard it, he decided to join my cat and take a nap.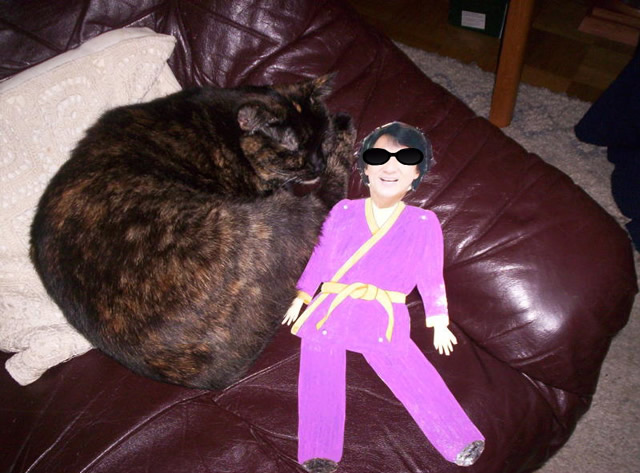 The next day, Flat Jackie decided to dictate his own diary, so here you are:

Flat Jackie's Diary, 30th November, 2008

Hi, my friends,
After I had rested all Saturday, I was full of energy this morning, so after breakfast I decided to help Bine tidy up. Here I am having some fun with the broom and dusting her books. Oh my, she has got a lot of books, but then, she is a teacher: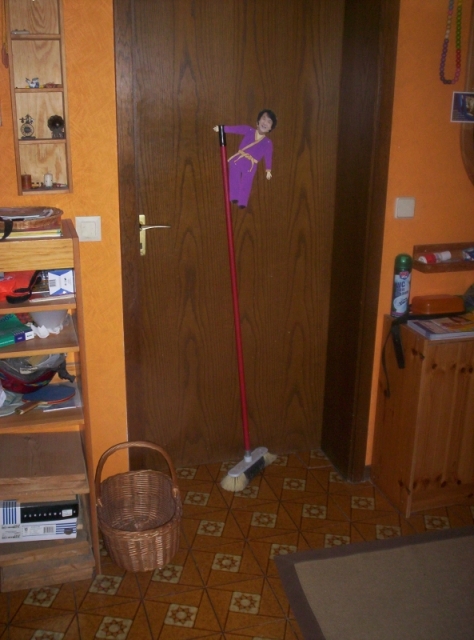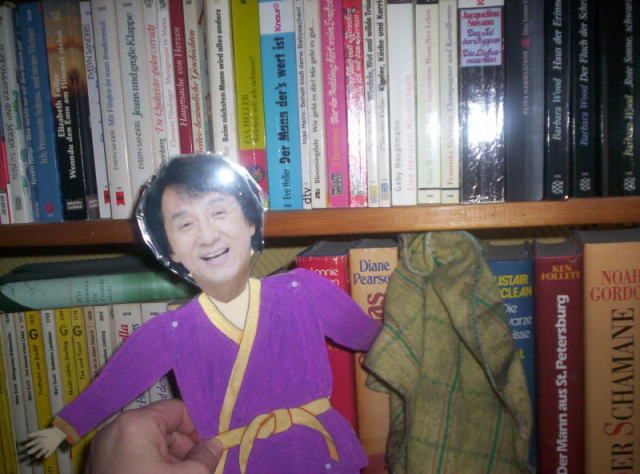 The four weeks before Christmas are called "Advent" and in Germany people have a wreath with four candles on it. Each Sunday they light one more candle, so today we lit the first one :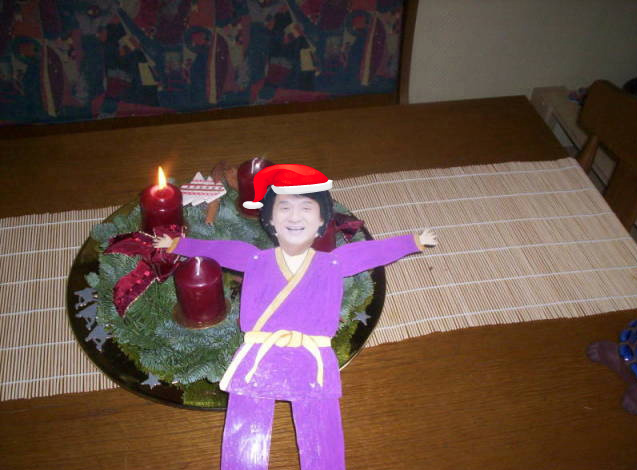 And I had a "Lebkuchen" - one with chocolate, very nice:

Anyway, after lunch Bine did the washing-up (I wanted to help, but she said it was too dangerous) and I watched a bit of "The Myth" on German TV. It was fascinating to see the German dubbed version and when Bine came to get me, I said: "I bet, you didn't know that I speak perfect German...?!?"

We went to the nearest town called Darmstadt and to a place called Mathildenhöhe.
The building on the left is the "Hochzeitsturm"(Wedding Tower) and on the right you can see a beautiful Russian Chapel.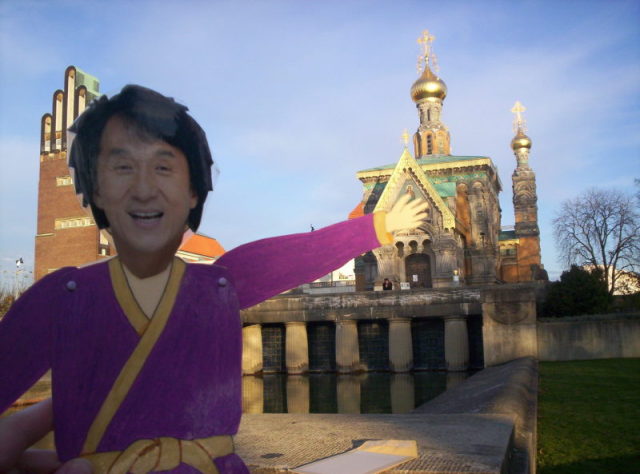 The Russian Chapel was built in 1897 - 1899, because the wife of the last Tsar of Russia was a princess from Darmstadt. The Hochzeitsturm was finished in 1908 and is a unique building. There is also a museum, because Darmstadt is famous for the form of art called "Jugendstil" (Art Nouveau).

The entrance to the Hochzeitsturm (you can get married there, too):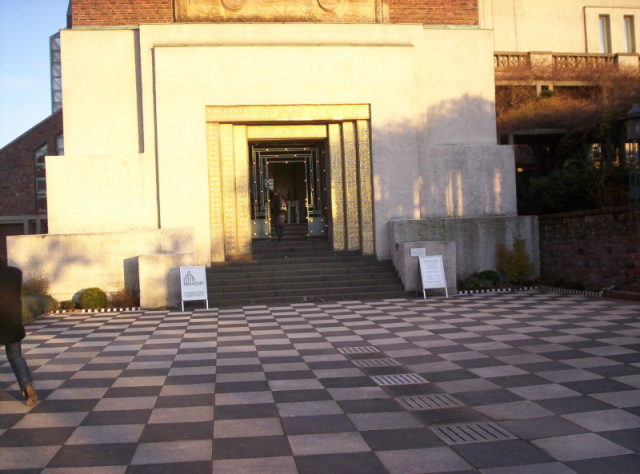 The lift was out of order, but walking up 159 steps is a piece of cake for us. From the top you have a great view over the city: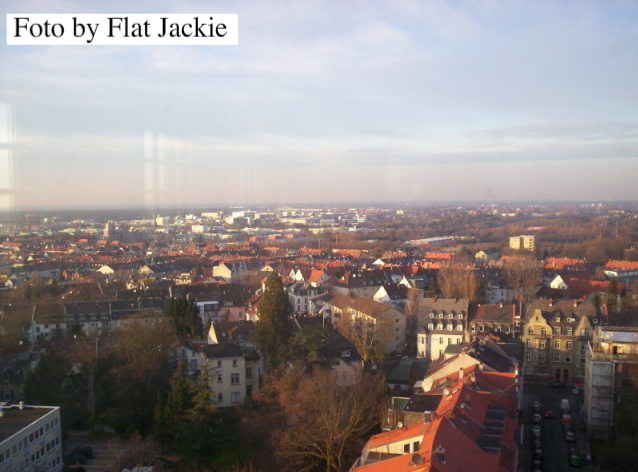 I played around on the stone statues, but it seems, this gentleman was not amused: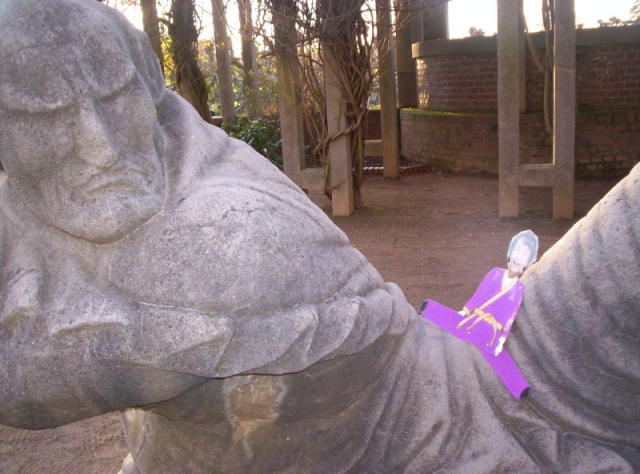 Haha, I am as tall as this column with information on it (they are called "Litfaßsäule", because these things were invented by a guy whose name was Litfaß in Berlin at the end of the 19th century).
And there is a park where people play Boule, which comes from France and is played with silver balls: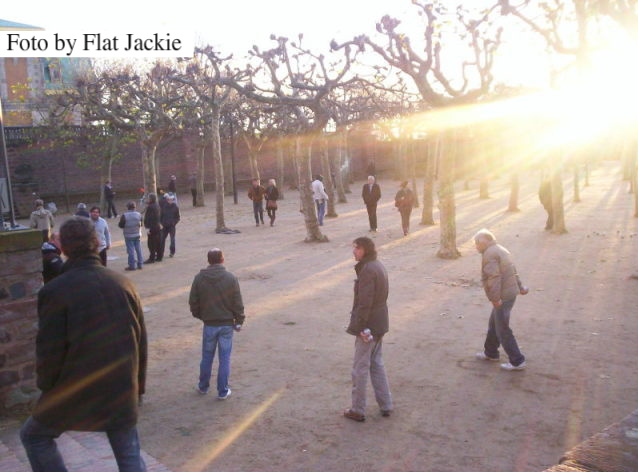 As you can see, I borrowed Bine's camera and asked her to write the German word for "photo", to show that the pictures were made in Germany,hahaha.

Anyway, that was my Sunday. She said I could come to school with her, so please excuse me while I prepare my speech for the students.Tuesday, 2nd December,2008

Yesterday Flat Jackie slept all morning - he had watched TV all night - but today he had to get up early to go to school with me. My first lesson starts at 7.50 am and I leave the house about an hour earlier. But Jackie is used to getting up early when he is filming, so it was no problem.

Here is Flat Jackie's Diary

I visited Bine's 6th year English group. The kids had collected some money for my charity last year and so I came to say "Dankeschön". Then I admired the beautiful Christmas decorations and the poster about "Freundschaft" . Friendship is going to be a topic in most of their lessons until Christmas, so the kids made a poster about it.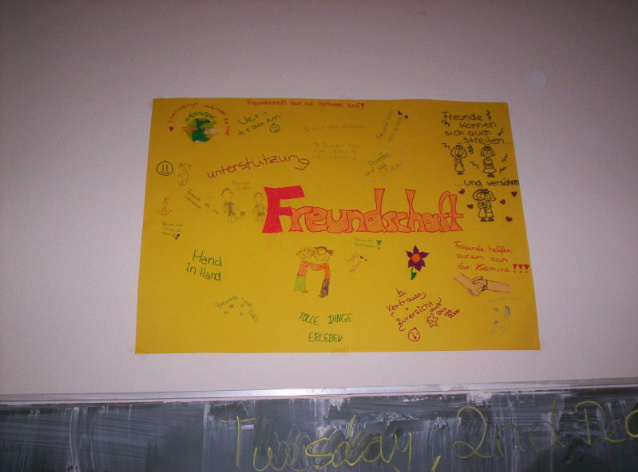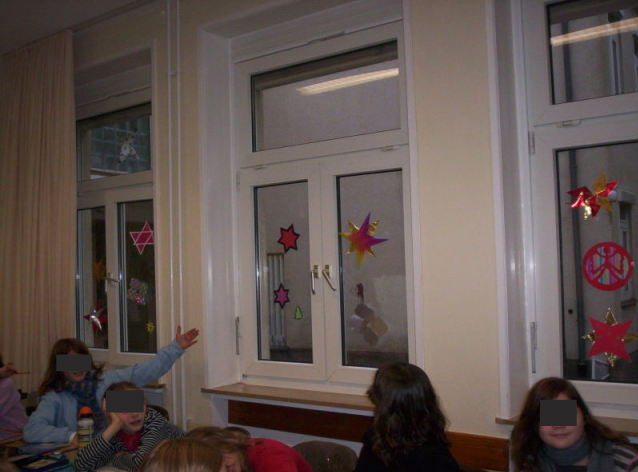 Here you can see me delivering my favourite speech: about how important it is to work hard and study well :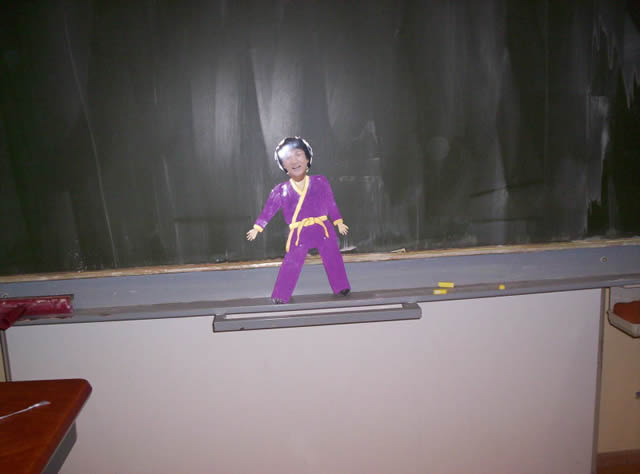 Unfortunately the students were getting a bit tired ... they had heard this so often from their teachers....
Well, in the end they told me how much they enjoyed watching "Around the World in 80 Days" and I had to promise to tell Bine to finish it with them soon. They are nice kids and very funny !!

When we uploaded the pictures, Bine told me that she was not allowed to show pictures of her students in public without the parents' permission, so we covered their faces.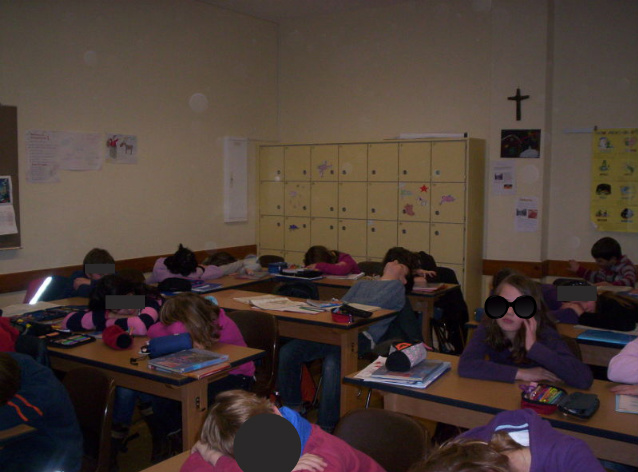 In the afternoon we want to do some shopping and then it is time for me to get back into my envelope and travel to the next person. Fortunately it is a short journey - the service on these "Envelope Airlines" is not very good, hahaha.

See you soon,
Flat Jackie Tuesday evening:
Well, the time with Flat Jackie is nearly over and I am sad to have to let him go. But he brought all the good wishes and energy from previous fans and I added my bit for those who come after me. This afternoon we had a look at the box where I collect donations: stray coins that I find in jeans pockets, next to the telephone, on the floor... I collected these during the past year and around Christmas I will bring them to the bank and donate them to Build a School for a Dollar . As you can see, Flat Jackie likes the idea: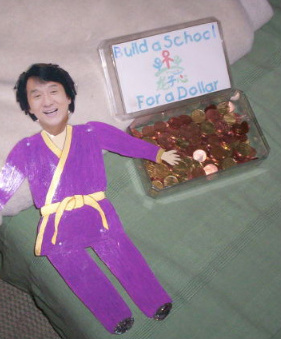 Sabine Krüger
Reinheim, Germany
November 2008

KIDS CORNER FRONT PAGE / LATEST JACKIE NEWS TOTALLY FUN JACKIE STUFF / OFFICIAL SITE HOME PAGE
©2009 The JC Group
No part of this website may be reproduced or distributed without permission