by Dagmar
My adventure with Flat Jackie
I was very happy when Flat Jackie arrived to my country successfully. I was so impatient so I opened the envelope at the post office and hugged him immediately.
Because there was very cold and windy outside we went directly to my flat. When we entered my lobby Flat Jackie was very surprised that he was welcomed by his friend and co-star Chris and by himself so he asked me to take a photo.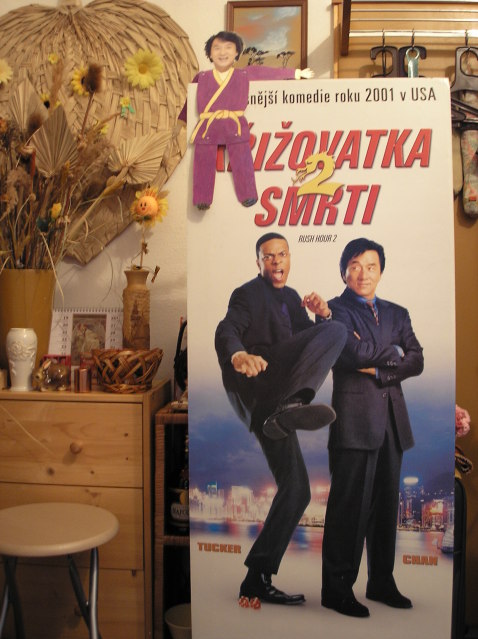 I thought that Flat Jackie will be tired of long travelling but while I prepared something to eat for us he started to discover my flat. He found his pics almost at every turn but when he found his altar he decided to stay there for some time.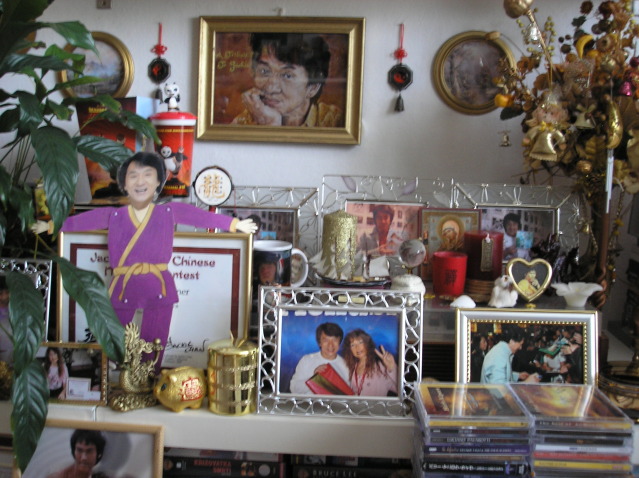 Then we watched a TV for a while and went to the dreamworld. In the morning we drank some coffee and I promised Flat Jackie to show him some places in my town. The weather was sunny but very very cold again.
I am a longtime fan but my first contact with Jackie and the lovely people in his office was that I painted my first tile. I decided to paint the blue church which is known that it fills peope´s wishes. I must admit that it works. Many people even from abroad visit it. So the first place we visited today was the blue church so he could see it in reality and not only on the tile.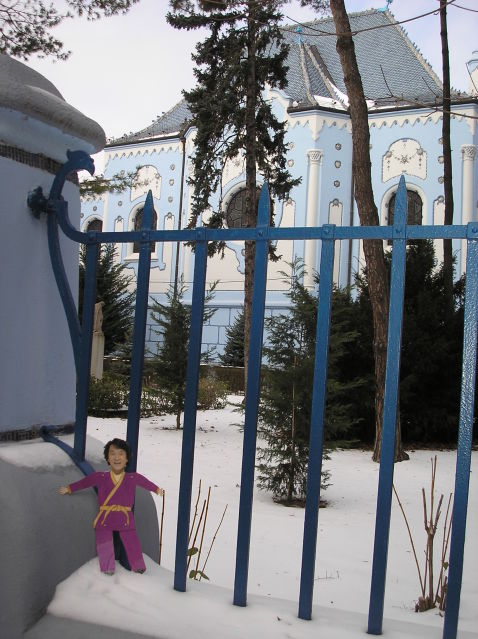 Then we continued visiting three another places, at first I showed to Flat Jackie our castle. When my country was a part of the Austro-Hungarian Monarchy the empress Marie-Theresa lived there. It is a pity that the castle is under the reconstruction because I wanted to show Flat Jackie also the interior with the authentic furniture. He could imagine how the aristocracy lived in the past.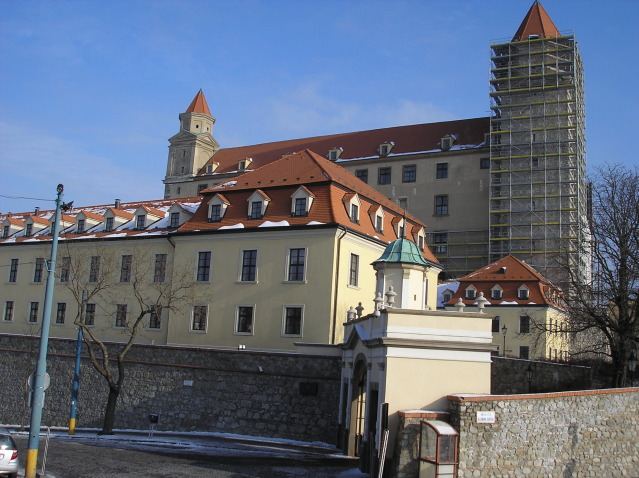 We all know that Jackie is very diligent so he decided to wait for the workers near the scaffold and help them.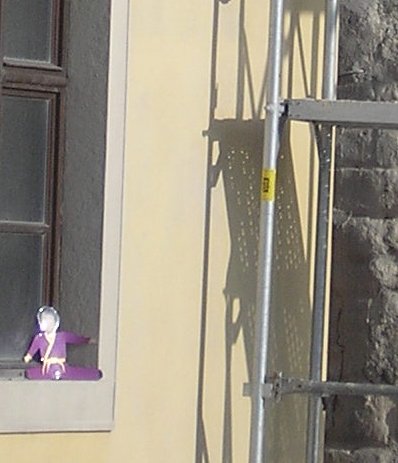 Then I showed him the building of our parliament but because it is placed on the hill and there was a very strong wind and Flat Jackie was almost blown away we decided to leave the place soon.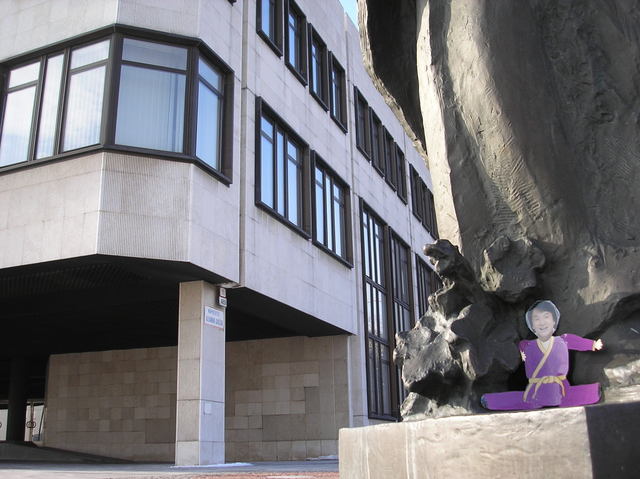 Finally we went to the middle of the inner city where I showed our Presidency. In the summer the palace is decorated with many wonderful flowers.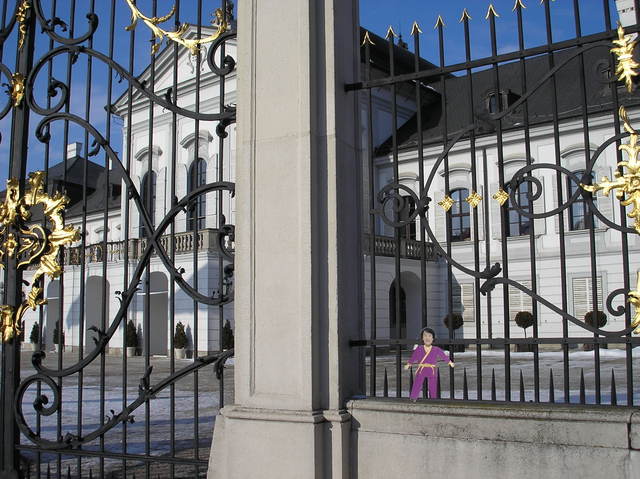 On Monday I took Flat Jackie to my work and I showed him my workplace. Flat Jackie seemed quite content with it.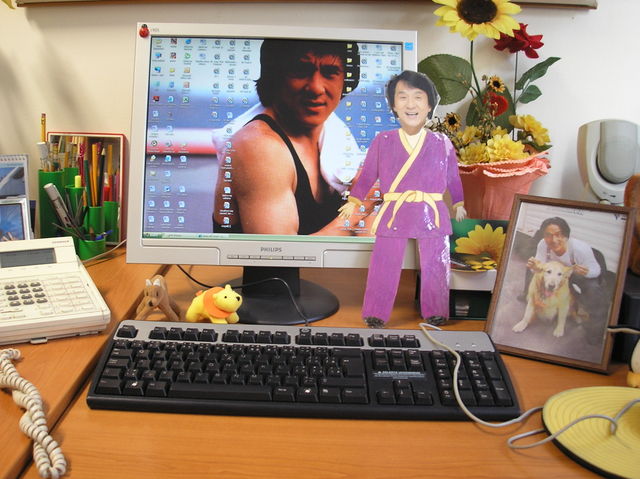 Then I introduced him my dear colleagues who work at the same corridor with me. It is a pity that the others were sick in this cold winter time.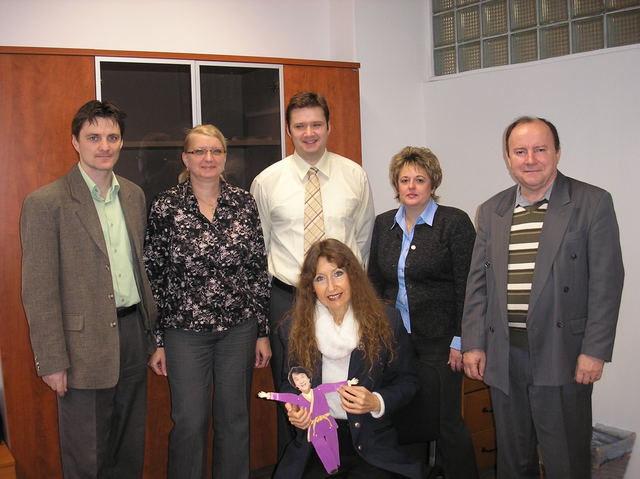 And finally we visited one store which is one of the most important places to me. When I was a new fan and it was almost impossible to buy some Jackie´s videocassettes or DVDs (the were sold out) I went to this DVD megastore where I met Darinka and her friends. During the years we became friends and Darinka helped me to create my complete collection of Jackie´s filmography. I am very thankful to her. Also now all Jackie´s DVDs are always sold out immediately here so the DVDs on the table have their owners already , they were ordered.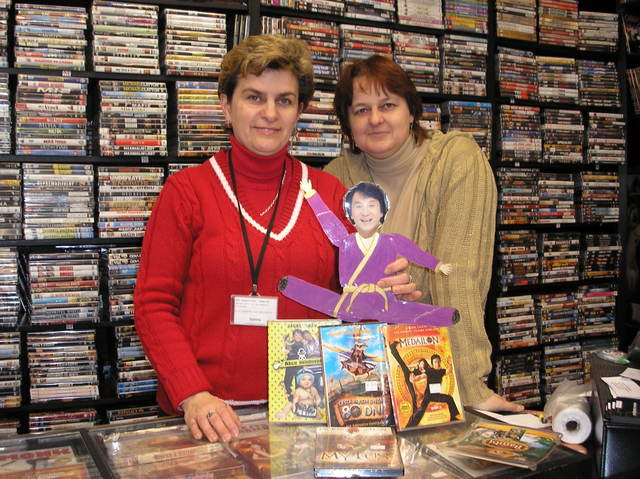 And slowly it is the time for a farewell even if it made me very sad. Flat Jackie drank his last cup of coffee and I started to prepare him for his next journey.
My Dear Flat Jackie, the time with you was wonderful, maybe I will meet you again sometimes.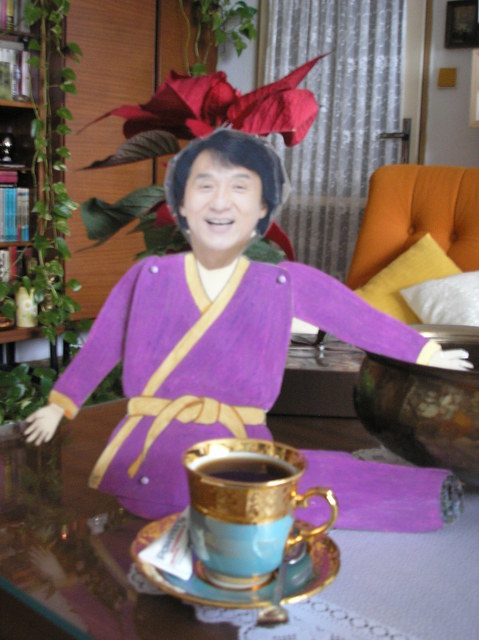 with much love,
Dagmar,
Slovak Republic

KIDS CORNER FRONT PAGE / LATEST JACKIE NEWS TOTALLY FUN JACKIE STUFF / OFFICIAL SITE HOME PAGE
©2009 The JC Group
No part of this website may be reproduced or distributed without permission