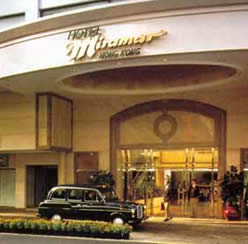 The Hotel Miramar, Nathan Road

Having someone from New York with us helped with getting to the hotel. We don't have a lot of public transportation in Madison. Most people get around in their own cars. We don't have a subway or rail system and had never ridden on one. Very few people use taxis and we have a limited bus system. Not having our own car to drive around was going to be very different from what we were used to at home. Kath was more familiar with other ways of getting around, so we kind of followed her lead. First we got on an express train that would take us from the airport to Kowloon where our hotel was. It was pretty neat looking at the scenery as we whizzed along. Next, we got on an express bus that took us right to the hotel. Holy Cow! Now I was glad we didn't have our own car to drive around. Driving in Hong Kong is way different from driving in Madison. For one, there are so many vehicles! Cars, buses, taxis! And they all seemed to go at once and in all directions. And there seemed to be no slowing down or gradually speeding up.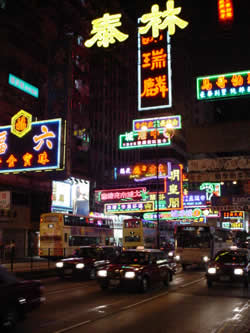 So many vehicles! Busy Nathan Road at night.
The bus was either going very fast or stopping very hard. But looking at the sights along the way helped take our minds off the crazy ride. It was dark by now and everything was all lit up. Lots and lots of lighted signs and neon. There certainly wasn't much need for street lights with all those lighted signs. It was amazing. We had never seen anything quite like it in Madison. Our hotel was all lit up too.

We had never been in a hotel like The Miramar. Nobody would let us take in our own luggage. There was someone waiting right at the door to help us. And we didn't even have to open the door. There was always a doorman waiting with a smile to open it for us. As soon as we walked in the door there were people there to help us check in. Then there was a gentleman there to push the elevator button. Gee, could we get used to this? We were used to doing everything for ourselves.

KIDS CORNER FRONT PAGE / LATEST JACKIE NEWS / TOTALLY FUN JACKIE STUFF / OFFICIAL SITE HOME PAGE
©2003 Lisa Schwark
Photos: ©2003 Katharine Schroeder/Jackie Chan Kids Corner (unless otherwise noted)
©2003 Katharine Schroeder/Jackie Chan Kids Corner
No part of this website may be reproduced or distributed without permission