We got settled in our rooms and soon realized how hungry we were. Uh oh. Nervous again. What would we eat? How would we order? Could we figure out the money? But wait- Mark had seen a McDonald's on the ride to the hotel. A taste of home. We braved our way a little ways down Nathan Road. So many people! It was like a puzzle getting through them sometimes. We only came across crowds like this during Christmas time at the mall at home. But we found the McDonald's OK. We walked up to the counter and the young man that helped us handed us a sheet of paper with pictures of all the things you could order. We pointed to what we wanted, figured out the money OK and sat down to wait for our food. This McDonald's wasn't so different from home. We got some looks because we were the only Americans there at the time. But the menu was the same. The seating was the same. There were even teenagers with blue hair and multiple body piercings. Something we are very familiar with in Madison. The food ended up looking the same, but tasting a little different. Nic, who works at McDonald's in Madison, thought maybe they used different oil and not as much salt. Yes, we do like our salt in America. But Nic and Steph got food from this McDonald's several times during our stay. We were happy to have it close to our hotel. Just like home, it was fast, easy and open early and late and best of all, had chicken nuggets, french fries, and Coke.


The food was probably our biggest concern. Nic and Steph were a bit reluctant to try new things and we simply didn't know what some of the native food was. But this worked itself out too. Mark found a wonderful little pastry shop next to the hotel. He went there every morning and brought back fresh donuts and croissants that were out of this world! They weren't as sweet as the pastries we have in Madison, which actually made them better. A nice light meal to start out our day. Stepping a few feet out our door to get a fresh breakfast is another thing we weren't used to. Just finding the time to eat breakfast was something we weren't used to. Every day we were in Hong Kong the four of us sat together and ate pastries and drank juice. None of the rush, rush, rush of our usual mornings at home. This was a nice difference.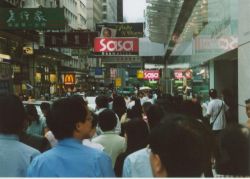 Heading towards the Hard Rock Cafe....look at the crowds!

Another place we ate at several times was The Hard Rock Cafe. We have those in the States, but we don't have one in Madison. So even though it's a familiar name, we had never eaten at one. It ended up being a culture shock within a culture shock. We walked there amongst the hundreds of native Hong Kong people only to step inside the restaurant and not see a single Asian looking face. And the food was exactly like home. Nic and Steph got their chicken nuggets and Mark and I got big juicy hamburgers. There was even plenty of salt on the fries.
We saw some Kentucky Fried Chicken restaurants and Pizza Huts but never ate there. We saw a Spaghetti House that

looked like it may have some more American type food, but didn't try that either. And believe it or not, we all tried some Chinese food. One evening some of our new fan club friends gathered in our hotel room after a day of sight seeing. A couple of them ventured out to get some food for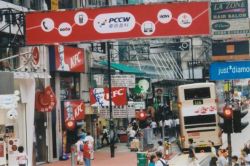 KFC, Hong Kong
us all to share and came back with a wonderful variety of noodles, and a delicious pork dish. In fact, this is how Kath came upon her "noodle lady" that she would regularly visit. Also, one of the JC Group staff members took us to one of Jackie's restaurants for Dim Sum. It was here that Nic fell in love with tea and tried some things that he wasn't sure what they were and where Stephanie ate tofu.
Everyone there was using chopsticks, but we were made to feel comfortable using silverware. All the food was placed in the middle of the table and everyone shared. This was very different from home. At home, everyone always orders their own meal. It's frowned on to share food at a typical American restaurant. Sharing food makes for a friendlier more intimate atmosphere. It was nice.

KIDS CORNER FRONT PAGE / LATEST JACKIE NEWS / TOTALLY FUN JACKIE STUFF / OFFICIAL SITE HOME PAGE
©2003 Lisa Schwark
Photos: ©2003 Katharine Schroeder/Jackie Chan Kids Corner (unless otherwise noted)
©2003 Katharine Schroeder/Jackie Chan Kids Corner
No part of this website may be reproduced or distributed without permission