As the lucky winners were off cavorting with Jackie, the rest of us were left to talk and visit with each other. It was wonderful to have a chance to say hello to all the other fans and to get to know people we'd "met" on the Internet but never in person. Here's a photo of the Kids Club members: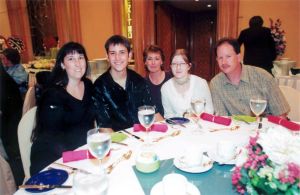 A bit later on, our group was escorted out of the building to a place where there were a whole bunch of open-topped buses lined up. We were instructed to board the buses along with the fans from the Japan club who had just arrived with much hoopla. Instead of supplying just one open-topped bus, there were buses for all of us and we left in a caravan to tour Lantau Island with Jackie!
In keeping with the phenomenally good luck that the other Kids Club members and I enjoyed throughout our trip to Hong Kong, we found ourselves seated in the back row of seats atop the first bus in the caravan. Guess who was in the second bus, right behind us and just a few feet away? Jackie! Yes... even though we hadn't won the lucky draw, we were delighted to be sitting where we were...with a clear view of Jackie (and Willie and Solon too!). We couldn't have asked for a better spot.

Here's a photo Nic took from his spot on Jackie's bus: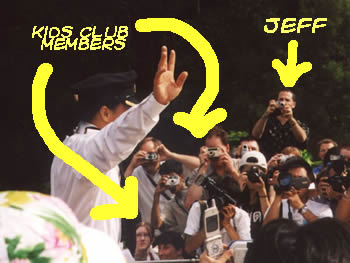 See? We had great seats! It was pure luck that we ended up where we did. Here are some photos of Jackie taken by several different photographers: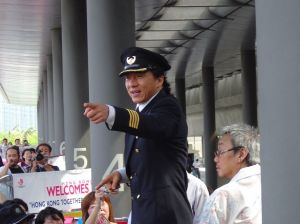 Jackie pointing to people he knows.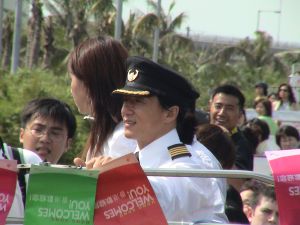 Jackie on the tour bus.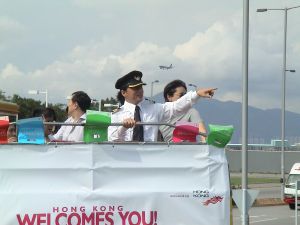 Pointing at the beautiful scenery.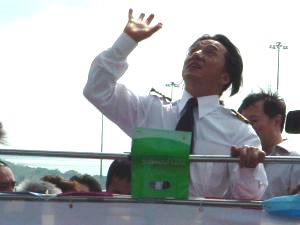 Joking as we went under an overpass.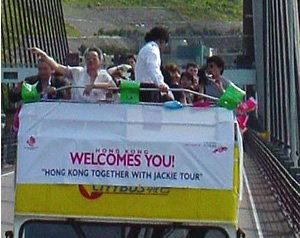 Willie telling us to photograph the scenery instead of taking photos of Jackie!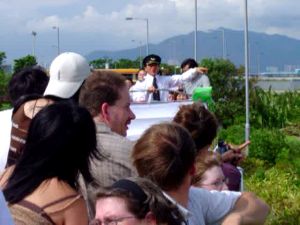 Jackie telling us to photograph the scenery instead of taking photos of Jackie!!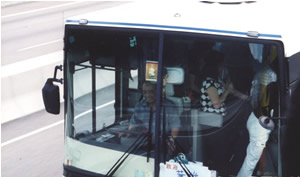 People in the cars and buses next to the tour group were thrilled to see Jackie on board.
CLICK HERE TO GO TO THE NEXT PAGE OF THIS STORY