by Kitty
A wonderful Christmas holiday
by Flat Jackie
I got a warm welcome when I arrived at Kitty's house in Hoogvliet, Rotterdam. But I was a bit tired from the flight so I thought I would just sit and relax a bit with Kitty's brother Tony.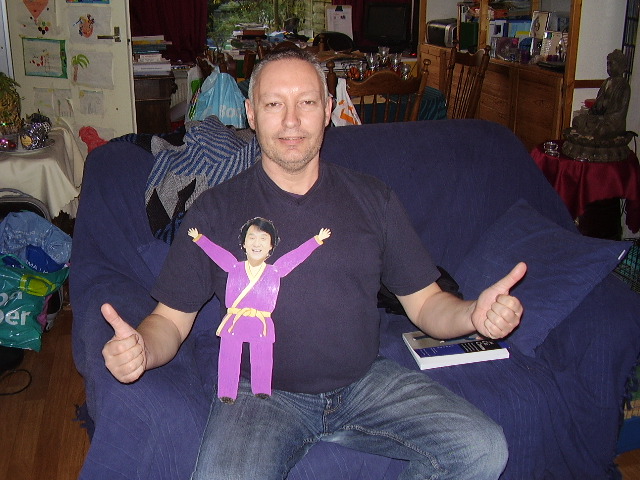 He told me that he has just started to learn Tai Chi.He showed me a very interesting book about Tai Chi.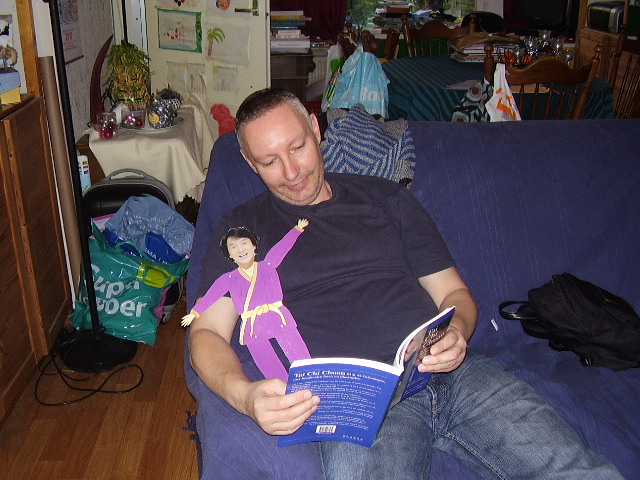 On Christmas Eve I helped Thomas and Christine put up the Crib and Dickens houses.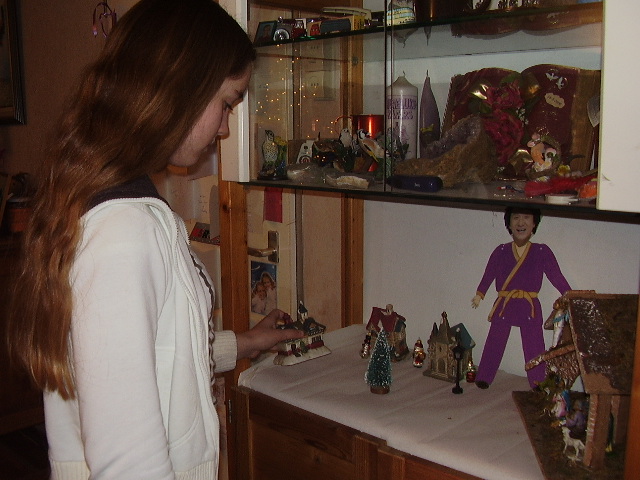 Thomas, I think the Church should go over here....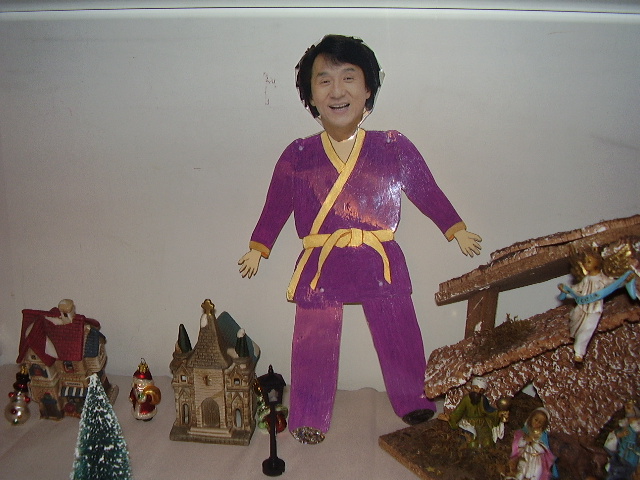 ...and the Christmas tree goes over there.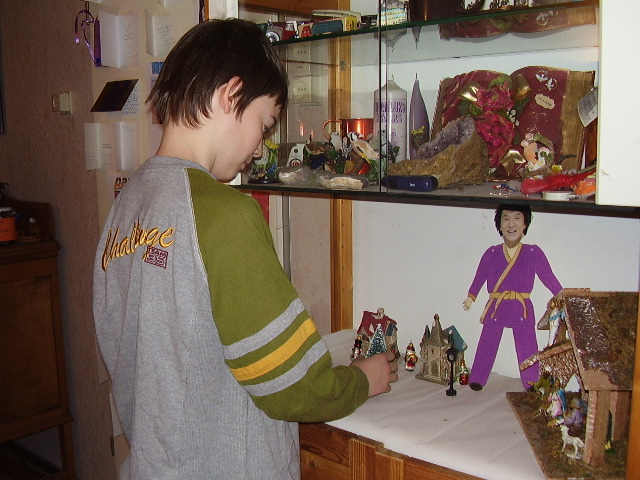 I think that it looks really pretty, what do you think?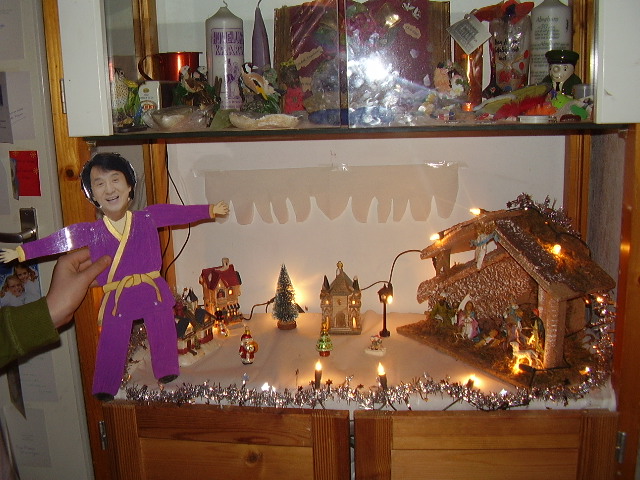 When we finished we all sat down to have a drink and
listened to Christine read the Christmas Story.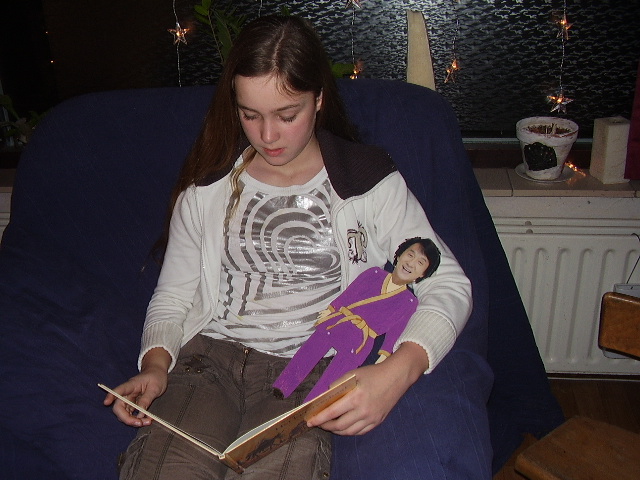 We were all a bit tired so we decided to go to bed early.
Although I don't think any of us will sleep well, we are to excited because tomorrow is Christmas Day!!!!
Its was Christmas Morning. Soon Tony, Hendriks eldest daughter Marjoleine and her boyfriend Joost arrived. After we had some coffee and tea it was time to hand out the presents.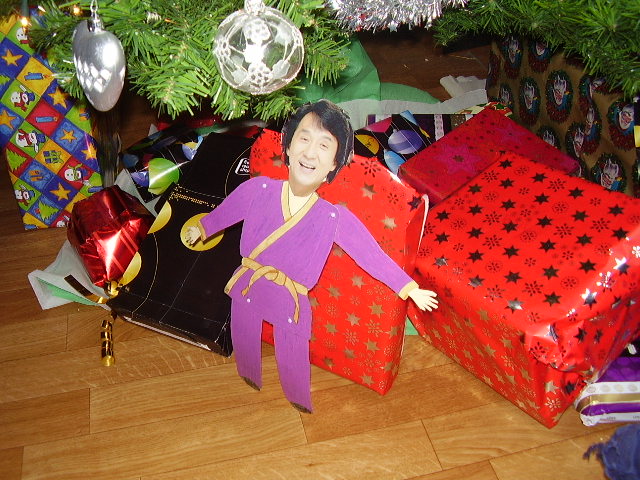 Sorry there are no photos of us opening the presents, Kitty was so excited that she forgot to take photos and I was to busy handing out the presents.
There were a lot of presents and most of them bigger them me!! So I decided to relax a bit and talk with Marjoleine and Joost.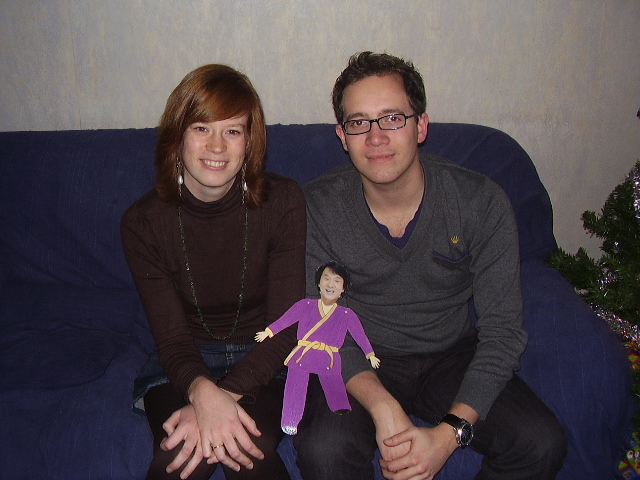 Poor Marjoleine wasn't feeling very well. She had a very bad cold and she was feeling sick so she had to have a lie down before visiting Joost's parents. It was very nice to meet them, we had a nice time together.
After they left I helped Kitty prepare the dinner and set the table.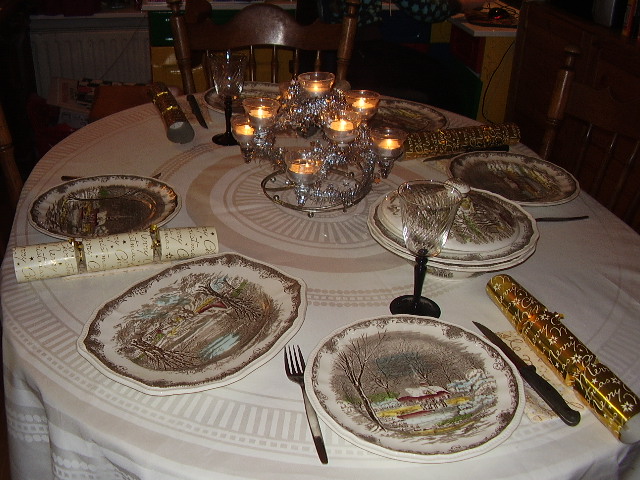 And then I helped serve the dinner.
"Are you going to eat all that Tony?"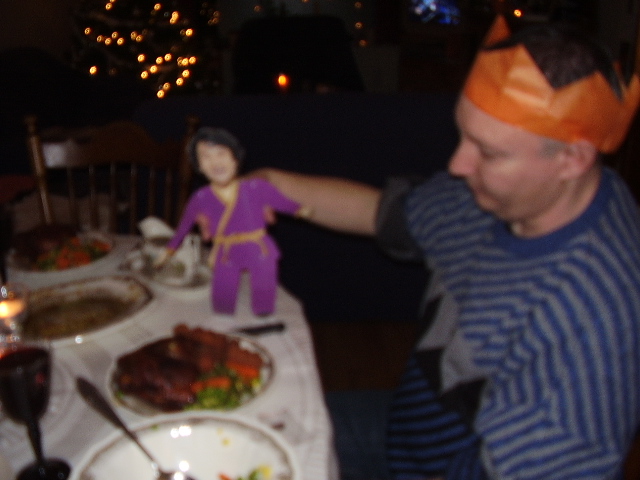 Come on Thomas and Christine eat up!!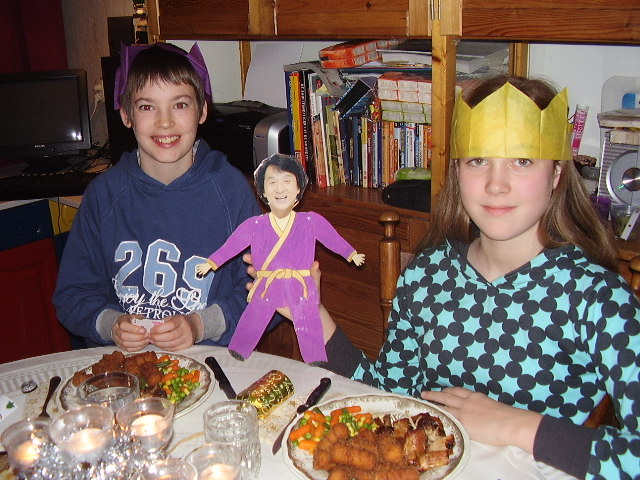 This is my plate, yummy!!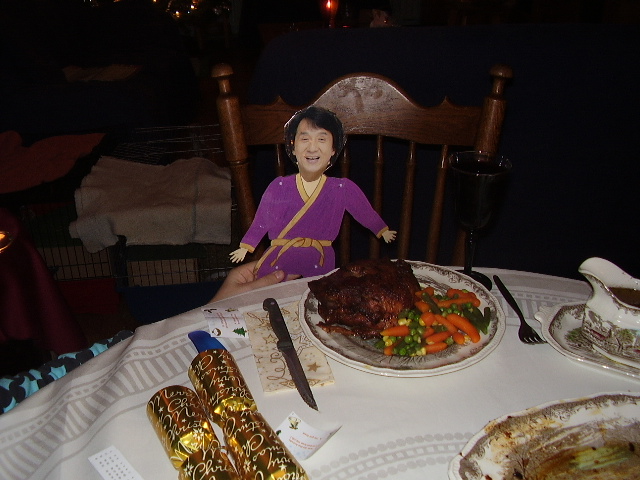 We had mixed vegetables, potato krokets and a HUGE turkey leg each!!!
Oh, I almost forgot! Before we started our dinner, Kitty gave us all a Christmas cracker. Now I don't know if you know what they are, I had never seen one before but I thought they were very funny. You grab hold of each end of the cracker, pull hard, it goes bang!! and out comes a party hat, a toy and a silly joke!!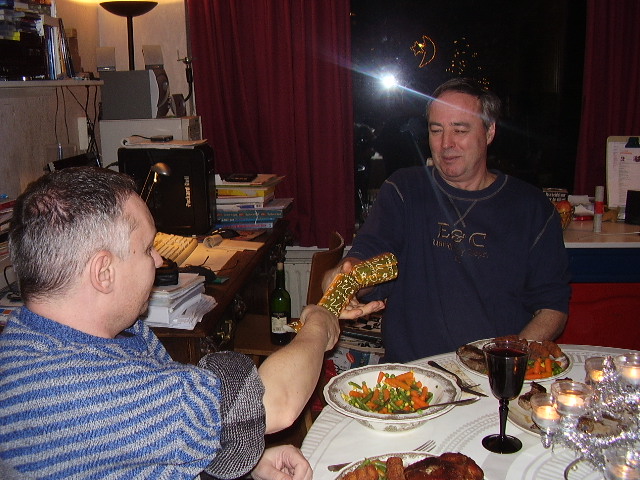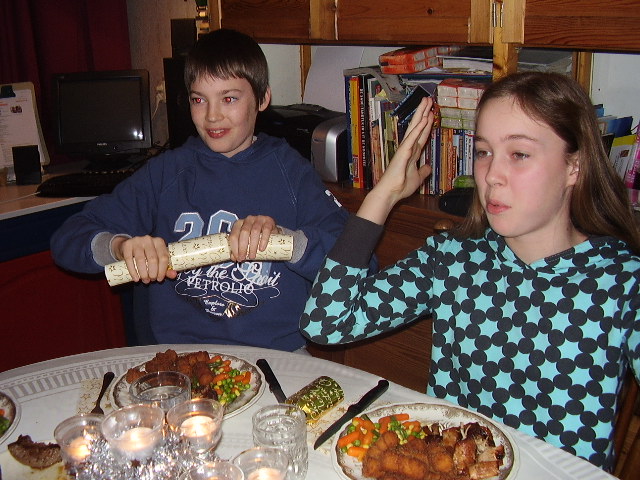 When I finished my dinner I went over to Hendrik to see if he had any of those potato krokets left, I really like those.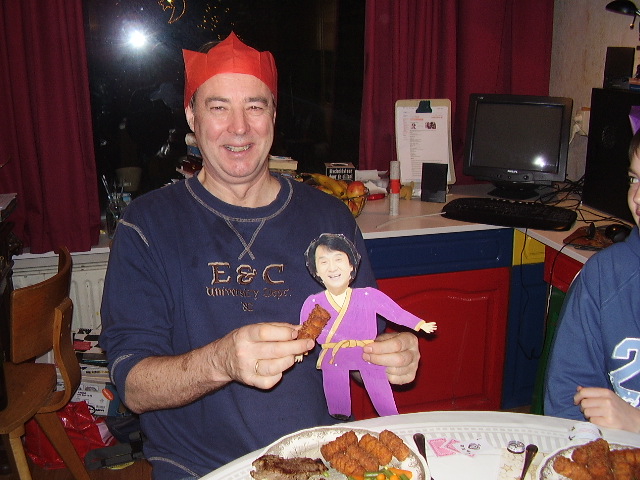 For desert we had fruit and ice cream. I was to full up to take any photos.
It was a lovely dinner I enjoyed it very much. But I think that I have eaten enough for a whole week!!
The next day we visited some friends of the family where we spent the day EATING AGAIN!!! Nice family by the way, they are very kind people.
Here is a photo of me and the kids.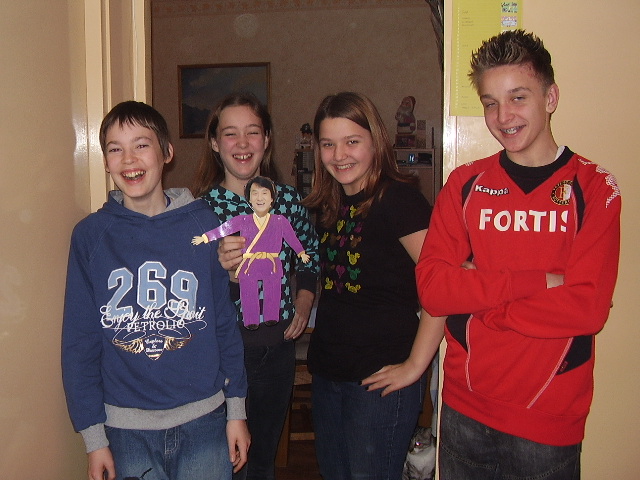 After all that eating it was time for some exercise. So the next day Kitty and Christine took me on the "Who am I" tour. We visited most of the places where the movie "Who am I" was filmed, Ahhhh I relived some very fun memories.


Our first stop was the Cubic houses, I showed them some really sharp moves.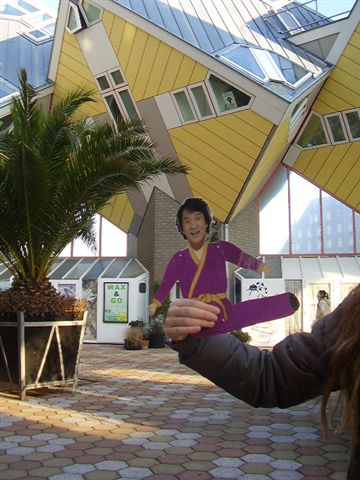 The next stop was my favorite, The Willems Werf, that is where the BIG STUNT took place.
When they were not looking I sneaked up the building.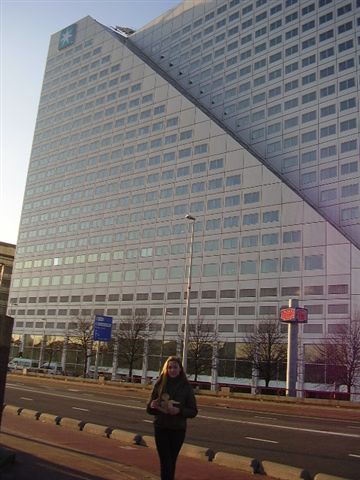 Kitty was not pleased at all, she kept on jumping up and down shouting at me to come down, so I did, the fasted way I could think of!!!
WEEEEEEEEEEEEE!!!!!!!!!!!!!!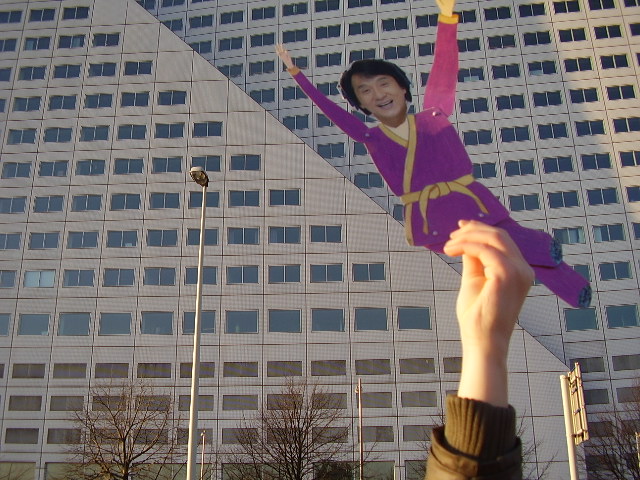 When I got down I had to comfort Kitty, I think I frightened her a bit, sorry Kitty!!
Christine on the other hand really loved my stunt.

Next stop was the Erasmus Bridge, I really like this bridge. I explained to Christine how the end of the movie was shot.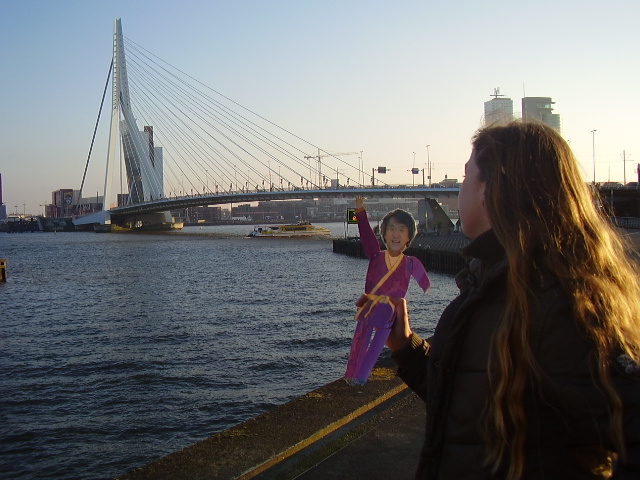 Then we walked down the Boulevard of Stars, guess who's hands are these!!!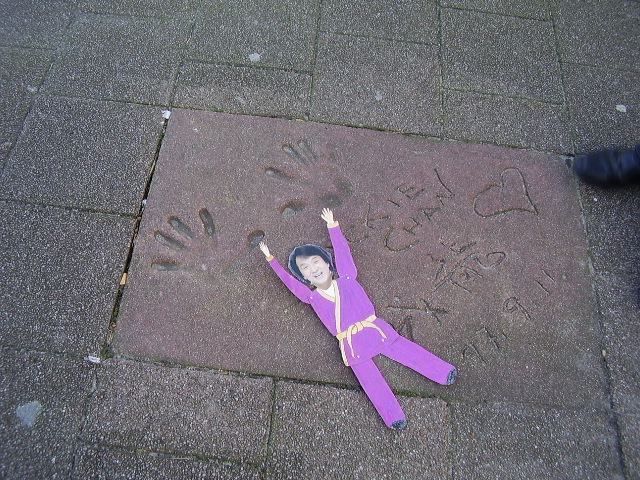 It was getting very cold so we decided not to visit the other places. So we took the metro back home again. We had to go to bed early because the next day I would go with Kitty to work and then I will have to fly with Envelope Airlines to Germany.
The next morning it was time to say goodbye to Kitty's family. I had a really nice time here. I gave everyone a big hug and said goodbye.
I hung out at Kitty's office for a while and then it was time for me to go. I settled down very comfortable among some very tasty treats, I won't go hungry on my journey!! But then Kitty reminded me that the treats were for Iris and I could only have a little nibble. I said goodbye to Kitty and gave her a big hug, I think I saw a tear in her eye as we said goodbye.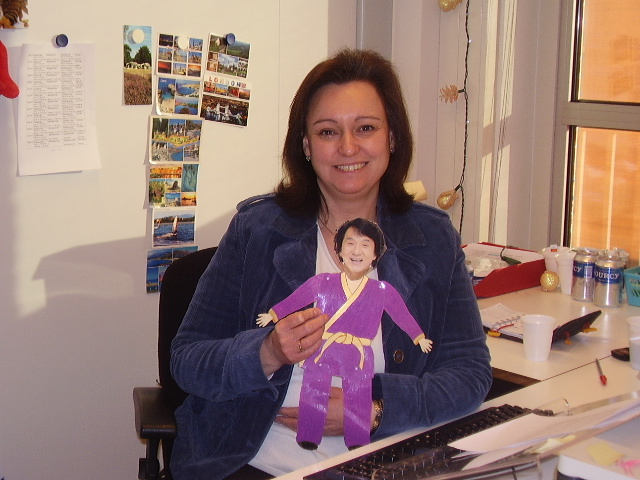 Bye for now.
Love,
Flat Jackie.

Well Flat Jackie was right when he said he saw a tear in my eye when we said goodbye. We had a wonderful time with him, we will miss him very much. I hope we meet again someday.

Love,
Kitty Engelmoer and family


KIDS CORNER FRONT PAGE / LATEST JACKIE NEWS TOTALLY FUN JACKIE STUFF / OFFICIAL SITE HOME PAGE
©2009 The JC Group
No part of this website may be reproduced or distributed without permission