From Hong Kong to Babelsberg – Traces of the Dragon: Jackie Chan is looking back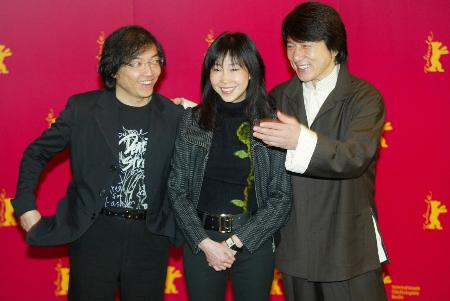 Jackie in Berlin (Photo: http://news.sina.com.cn)
published: 8.February 2003
Written by Andreas Conrad

Translated by Jewel

There was an idea. But it was undefined; his father's secret. It was strange that he bought so many things to send them to Mainland China. And then they got a letter: "To my dear father." Who should have written this? He was the only son, Jackie Chan. His father didn't answer his questions.
Much later he came in his son's office to tell him his secret. Maybe he wouldn't live that long anymore and Jackie should know the truth. That he has 2 half brothers and 2 half sisters. "I was shocked", tells Chan. But he's too much professionalist not to think at this moment: "Why don't we make a movie out of this?"
A movie full of violence, despair and pain, but also full of love, trust, devotion. Material that was perfectly made for Hollywood movies, like "Gone with the Wind" or "Doctor Schiwago". But Chan isn't THAT hard-bitten profisionalist that he would surrender his family for a box office hit. "Traces of the Dragon: Jackie Chan and his Lost Family" is a documentary, nothing that the entire mass could lure. Interviews, movie documents, only introduced with some acrobatic action scenes with that Chan became so famous. The father worked for the Chinese before and had to escape to HK after the communists' victory, his both sons lagged behind. His later second wife had a very similar past.
First they only wanted to make a docu just for the family, after all with Mabel Cheung as director. But soon he felt that it all was more than just a family story. It's about Chinese culture and history, everything that the teared (Chinese) nation had to live through during the last century. Japanese invasion, civil war, cultural revolution, and finally the opening fo the country, the new connection to Hongkong, that again separated many families and friends.
The destiny of his family seems to Jackie Chan as very typical and not unique, "that's why I distributed it for the public", so that everyone can find out more about it who's interested. That his family are the leading persons here can only help him to find public for this difficult topic. That's what director Cheung is hoping. After all he's a superstar, not only famous in Hongkong but also in Hollywood.
In the beginning it didn't work at all in Hollywood. The Americans liked Bruce Lee or Clint Eastwood. Beating 2 times and the enemie is lying on the floor. "But I like it fast: slamming 20 times, but without blood, the bad guy stands up and goes away", describes Chan, also now a very funny guy, who gesticulates very animated, switches between English and Cantonese, jumping around, much more a comedian, good trained body as always and in spite of his 48 years he seems to have a jaunty-young essence.
In the past Chan already had been at the Berlinale, when the Berlin Wall was still standing, that he also took pictures from. From here on we will see him more often here [in Berlin]: In the next 3 days he will visit the studio Babelsberg and some suburbs where he will film his new movie "All around the world in 80 days" in late spring. 3 months he will stay and then they'll move to Bangkok . It'll be a "family and kids movie" without violence promises action star Chan. "There are enough this kinda movies in this world"