The word is that Jackie and Owen are planning a third "Shanghai" movie called Shanghai Dawn. The storyline for the new movie is a tightly guarded secret that only a few Hollywood insiders know. "So what's this got to do with me?" you might ask. Well, the Official Jackie Chan Fan Club for Kids is having a contest to see who can come up with the best story for Shanghai Dawn. Your job is to write the story and to illustrate one scene from the yet-to-be-made movie. WAIT!!! Come back!!! Don't run away just because you heard the word "write." You don't have to write a lot and it doesn't have to be perfect. You just have to state what your idea is for Shanghai Dawn and draw a picture. That is it. And what's in it for you? Well, the top three story/picture combinations will be featured on the Kids Club web site and they will be printed in the newsletter as well. PLUS, they will receive their own awesome HUGE Jackie Chan 2003 Official Calendar...hot off the press from Hong Kong. Here's a little peek at the calendar: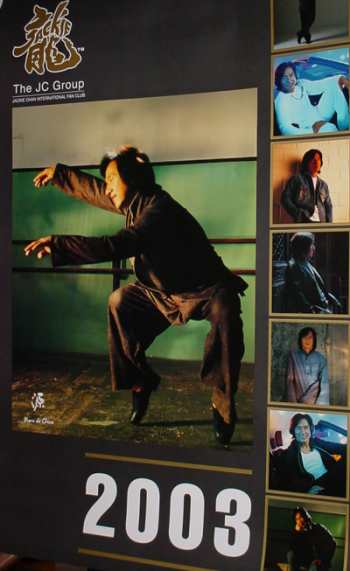 (This photo was taken at an ANGLE to avoid glare from the flash)
This calendar is 30" x 20" (76.2 cm x 50.8 cm) and is in full color. The photos are superb and are taken by professional photographers. This is no ordinary calendar - mere words can not describe how awesome it is. If you were to buy it you would pay $30 US with the shipping and handling. So if you're not a club member and would like to take a shot at winning the calendar, why not join? The calendar is worth two times the membership fee, so you really can't lose, right?
Click here for all the important information on how to enter. And don't forget....there will be THREE WINNERS!!!!!
Many thanks to the JC Group for supplying the calendars for this contest!
©2003 Katharine Schroeder/The Official Jackie Chan Fan Club for Kids
No part of this website may be reproduced or distributed without permission.