The Tuxedo, which opens on September 27, 2002, is Jackie's newest theatrical release since Rush Hour 2. The movie is about a cab driver named Jimmy Tong who accidentally becomes involved in the world of spies and super-powered clothing (the tuxedo has special powers). Jackie stars with Jennifer Love Hewitt in this PG-13 rated film. Scroll down to see photos from the movie. Click on them to see a larger photo. These photos are all ©2002 DreamWorks SKG.

CLICK THE LINKS:
VIDEO INTERVIEW WITH COUNTINGDOWN.COM REPORTER

VIDEO INTERVIEW WITH JENNIFER LOVE HEWITT

UPDATES TO THE OFFICIAL TUXEDO WEB SITE

LISTEN TO AN AUDIO INTERVIEW WITH JACKIE
PHOTOS FROM THE TUXEDO PREMIERE!!!!
TELEVISION INTERVIEW JACKIE GAVE WITH WGN-TV ON SEPTEMBER 16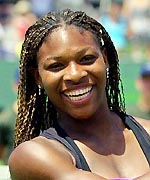 Guess who's a Chanfan? Click here to read the story!
Click on Jackie's photo (above) to go to the special "Jackie Chan Baseball Photo Page" which has been created to gather together all the photos taken of Jackie while he's touring the nation's baseball parks.
Other special "Tuxedo" links:

Listing of Jackie's scheduled US television appearances
The Tuxedo's official web site - lots to see and do!
Jackie's official web site. Movie updates plus a lot more!
Sean's winning entry in the Kids Club "Design a Magic Tuxedo" contest!
See Jackie in The Tuxedo's BMW Z8 automobile
Read what Jennifer Love Hewitt had to say about Jackie in a recent interview
Listen to Jackie's interview with radio personality Rick Dees
Pre-order The Tuxedo Soundtrack


ARTICLES:
The State Hornet

The Baxter Bulletin

The Witicha Eagle

CNN.com

News24.com

The San Francisco Gate

Tuxedo Review (*SPOILERS*)

Detroit Free Press

Click here to read a nice article from the Manila Bulletin Online

The Los Angeles Times Calendar (long)
HOME / BACK TO LATEST JACKIE NEWS