Mother and Son Meeting Jackie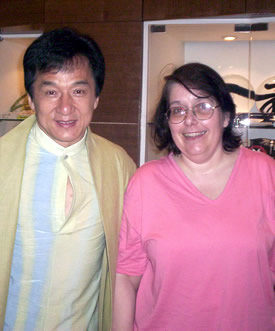 When we found out that there was enough money for a trip to Hong Kong for two people, but our family has three members, my husband was friendly enough to stay at home, look after the cat and let his 15-year-old son see something of the world.
Now, if you have got a teenager at home, you may understand that I was a bit worried. How will we communicate? He only talks the most necessary words with me. What impression will the hotel staff get from a guest who covers the floor of each room he lives in with clothes?
And if you are a teenager yourself, you might feel sorry for my poor son. I always tell him what to do, where to go, what to say. He would never have a moment of peace, as I would make him see sights and museums and NEVER have fun.
You see, it looked like a complicated trip. But it turned out to be the best journey we have ever been on together.
Teenager or adult?
We flew from Frankfurt to London and then from there to Hong Kong. My son was a bit worried, he thinks his English is not so good and we were flying with British Airways. But he needn"t have worried. After having chosen his sandwich in fluent English ("Cheese, please!") and getting what he wanted, he started to feel a bit more confident.
The highlight came at Heathrow airport. I wanted to enquire about the terminal we had to go to, my son stayed a few steps behind, I addressed a man in uniform : "Excuse me, Sir..." - and he completely ignored me, brushed me aside, went to my son and said :"Yes, Sir, can I help you?"
That was when I realized that my "baby" was not a baby any more , and my son noticed that he may feel small and insignificant, but to other people he looked like a man.
In Hong Kong
We had booked transfer to our hotel through the travel agency, so after getting our luggage we were looking for someone who was supposed to have a sign with my name. So I thought, but the sign actually said "Mr Krüger and party". My son liked this a lot and kept reminding me during the next days who was the boss here. We got to our hotel, which was very luxurious for someone who is used to staying at Youth Hostels and cheap hotels, but we enjoyed being treated like celebrities.
I could see how my son behaved perfectly in every situation and I was very proud of him. We had a lot of fun together during the next days, but I am just going to describe the most important "Jackie moment", which was on
Tuesday, 10th April,2007
Our last day – a rainy day- and the only day the JC office was open. When we arrived, Kath was there to greet us and she told me that Jackie had been at the office earlier, but then gone to a meeting and would go to a press conference directly from there. She also had to go to the press conference with Jackie later in the morning (the one with George Foreman). Well, I hadn't expected anything else, so I enjoyed the coffee and the atmosphere, I saw Dorothy and Osumi and Fibe and Matt (the "Segway guy") whose names I had heard or pictures I had seen, and generally felt relaxed and happy to be able to be there and drink "Jackie's coffee."
Then I remembered that I had put my handbag somewhere, which I tend to lose or manage to get stolen. It had our passports, money and my credit card, so I went to fetch it, when I suddenly heard someone saying "hallo" --- I thought it was my son's deep voice, but it was JACKIE !! And that was the end of the relaxed mood. He was incredible, said hallo, said "Danke" when he heard we were from Germany, offered us "Coffee? Tea? Ice-Cream?" Kath took my camera and took a photo of Jackie and us and he ordered "one more" in that Jackie ordering tone, that made even me, the teacher, stand on guard. Then there was a break when we could catch our breath, while he went to the office - and then he came back, wished us a good time in Hong Kong and was gone.
- - -
???
WOW!
I think I just shook hands with Jackie Chan!!
He is just an ORDINARY, NICE GUY!!!
Phew --- how lucky we were.
We spent the afternoon at Ocean Park . We were joined by Jacqueline, another German fan who had also witnessed the Jackie whirlwind, so we women talked endlessly about it and about Jackie --- and my poor son got thoroughly fed up with the subject. But I have now another nice person on my email list, adding to all the other interesting and wonderful people I have met because of Jackie.
Thank you
I would like to say THANK YOU from the bottom of my heart - to my husband, to Jackie for taking the time despite his tight schedule, to Kath for helping us and making us feel so comfortable and welcome despite the work she had to do, and last but not least to my lovely son for being such a wonderful travel companion.
PS
I have started to save my pocket money for another trip to Hong Kong.....
Sabine Krüger
20th April,2007
Note: Sabine's son asked that he be cropped out of the photo, so that's what we did!