Happy New Year to Jackie!
Dear Kath,
We are the class 6a from the Edith-Stein-School in Darmstadt in Germany. Mrs Krüger thought we should make a picture for the Kids Corner. Happy Chinese New Year to you and Jackie Chan.
Your Class 6a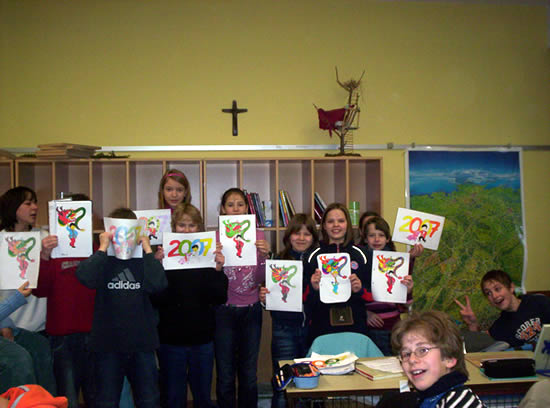 Annotation:
As you can see there is a cross on the wall. That is because we are a school financed by the Catholic church. Some of the kids have crosses of ash on their fronts. This is a Catholic tradition: After the Carnival season the season of Lent (the weeks before Easter) starts on Ash Wednesday. There is a church service and everybody gets this cross as a sign of repentance. And today is Ash Wednesday.
We talked about Chinese New Year last week with the help of the Kids Corner information . So I want to say "Thank you" to you, Kath, for providing this text and allowing me to use it in my lessons.
Best wishes from Sabine Krüger, English teacher

KIDS CORNER FRONT PAGE / LATEST JACKIE NEWS / TOTALLY FUN JACKIE STUFF / OFFICIAL SITE HOME PAGE
©2007 The JC Group
No part of this website may be reproduced or distributed without permission.