Hello! Let me introduce myself please:
My name is Christophe, born in August 1973 in the north of France near Calais. I'm a great Jackie's fan since I'm young and I've lived and worked in Paris since I was 7 years old. I work at the "Préfecture de Police of Paris," the place where Jackie filmed in 2011. The story begins here...
The day before, on Friday, we had intructions to keep the street clean (a lot of police cars are parked here because it's a place for our vehicles) because Jackie Chan comes to shoot for his latest movie. It's a mission to me, I thought to myself !
So I have done all that I can to make a clean place for Jackie to film in good conditions and prepare myself for Saturday in the morning to come to meet my favorite actor !
So, comes the D-day ! I call a colleague who is my friend too and we go immediately! I'm very excited! When I arrive, at once, who do I see?! Jackie himself in his black 4x4. I don't want to disturb him of course but I smiled at him to make him understand that I'm a fan and I'm here for him! Jackie is very intelligent and he guesses at once and makes me a great smile to show me he understands.
At this moment, i'm already very happy! But my dream day doesn't stop here...
I would like so much to take a picture with my idol! I thought to myself... but I waited quietly while Jackie finished his work, of course. I'm a little bit sad for Jackie because there is a lot of wind in the street and it often rains but between the rain, there are blue skies and sunbeams!
So Jackie takes the last shot and he returns to his car. I thought, what a pity! I can't approach him!
But suddenly, he comes down begins to enter under the arch of the building where I work ! My heart beats very quickly and I walk to him and just near him I decide to call him. "Jackie!!!"
He turns to me and not as I expected, he smiles at me and holds out his hand and shakes my hand!!! It's like a dream! Jackie! Yes, Jackie shakes my hand! Incredible! So my friend has in his hand my camera and Jackie one more time understands...
...and he stands near me and puts his arm around me and shows with his fingers to my friend the camera to take a picture !!! I tell him it was me who moved the cars the day before for him and I work here as a policeman. He listens carefully to me and thanks me and shakes my hand again.
It's incredible! Jackie shakes my hand! Takes a picture with me! Talks with me! INCREDIBLE!!! I knew Jackie is a very nice person but I didn't think that a big star like him could take so much time with me!!! INCREDIBLE!!! The most beautiful day of my life!!!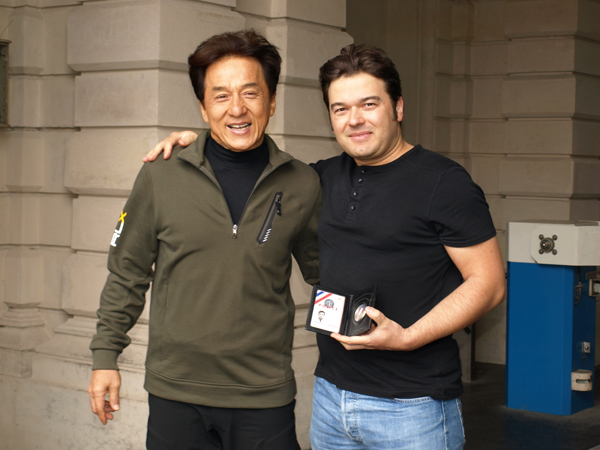 Jackie, I hope meet you again in Paris or anywhere in the world. It will be with the same great pleasure. Like you I'm a musician too and I enjoy comedy so if one day you need a musician or French comedian in one of your next movies, I'm your man Jackie !
THANK YOU VERY MUCH JACKIE FOR ALL THE LOVE AND HAPPINESS YOU BRING TO US!!!
With all my respect and friendship,
Chris from Paris