A Very Special Place:
The Peanut Gallery Family Daycare
There is a very special place in Wisconsin run by a very special Jackie Chan Fan. Her name is Lisa and she takes care of children from the ages of several months up to 12 years. Now, these are some very lucky kids. Not only do they get to spend time in a great environment with Lisa and her family, they also have the added benefit of learning what it's like to be a Jackie Chan Fan! Lisa and her family share their love of Jackie with the kids in many different ways. They color pages for Jackie's Coloring Book, they watch classic Jackie Chan films, they listen to Jackie's music, and they follow Jackie's example of being a good World Citizen.
You will see lots of activity here on the website this summer as Lisa and her crew provide us with wonderful drawings, stories, reports, and movie reviews. Below are some photos of The Peanut Gallery Family Daycare on their Annual Jackie Chan Cleanup Walk. They scour the neighborhood for garbage and pick it up....just like Jackie does!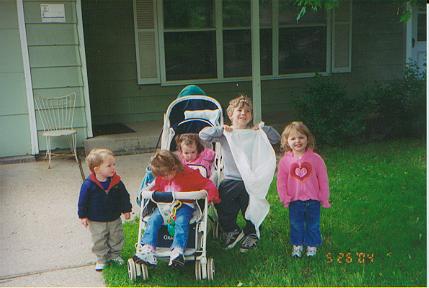 The Cleanup Crew (l to r): Ryan, 1 1/2; Anna, 3; Josie, 1 1/2; Evan, 4; and Natalie, 2.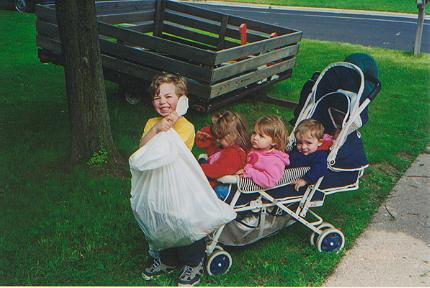 Here's the crew with a full bag of garbage. Jackie would be proud!
KIDS CORNER FRONT PAGE / LATEST JACKIE NEWS / TOTALLY FUN JACKIE STUFF / OFFICIAL SITE HOME PAGE
©2004 Katharine Schroeder/Jackie Chan Kids Corner
No part of this website may be reproduced or distributed without permission