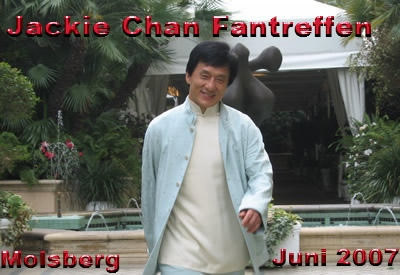 Usually the village of Molsberg near Limburg on the river Lahn in the beautiful area of the mountain range of Westerwald between Frankfurt and Cologne is a quiet place at weekends…. usually but not that weekend in the middle of June. The air was filled with laughter and chatting of six women – all fans of Jackie Chan, their favourite actor and hero.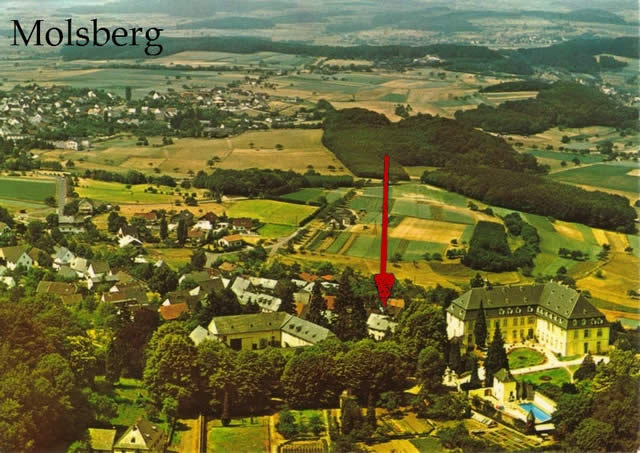 But let the story begin in earlier times: in February Ute and Silke, two of Jackie's German fans, had the idea to hold a small fan gathering of Jackie's fans from different parts of Germany. They had already taken part in something like that years before and they had liked it very much. That's why they decided to organize such an event this time by themselves. They chose as the date the weekend from 16th to 17th June, 2007, and invited fans from all over Germany to participate.
In the end 6 fans from totally different parts of Germany took part: Iris from the northern part, Jutta, Ute and Kerstin from the western part, Sabine from the southern part and Silke from the eastern part, but they had as much fun as if they had been many more.
And here comes the short report of this weekend:
We all met on Saturday, June 16th in the inner city of Limburg at the railway station. The sun was shining and it was going to be a wonderful summer weekend. We couldn't miss each other because everyone of us was wearing a cap or a T-Shirt with Jackie's design on it. It was great fun. Some of us had already met at a German premiere of one of his movies or at the China Events in Hamburg, but we had never been all together at the same place until now.
After the arrival of the last participant we walked through the beautiful city of Limburg to a small Asian restaurant to enjoy Chinese food. According to Chinese tradition we ordered various dishes and shared them all with each other. Also the owner of the restaurant, Mr. Mingh, came to greet us and we chatted with him about the reason of our meeting.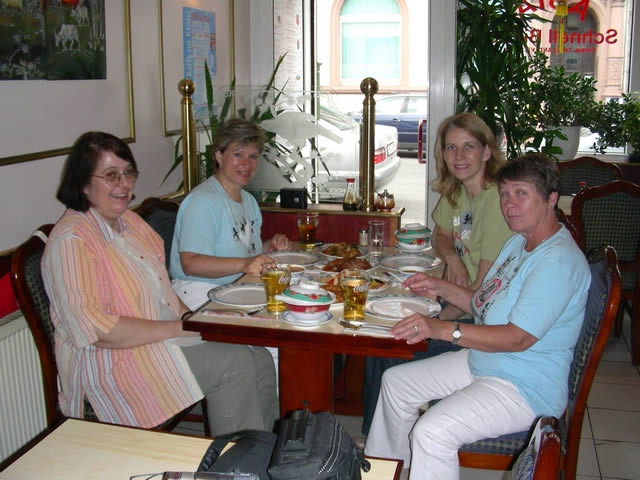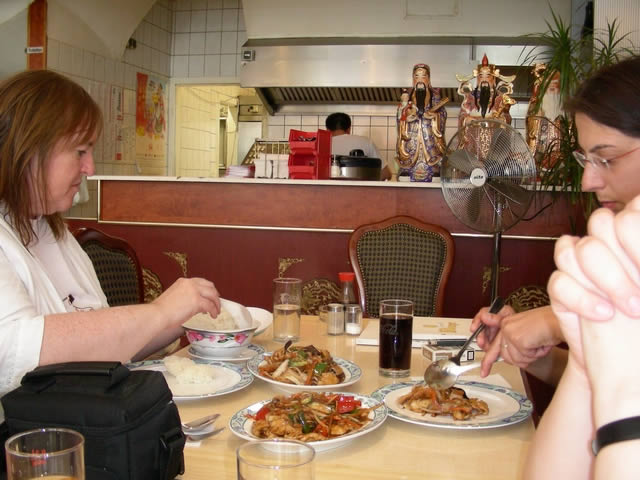 After finishing the delicious meal we walked through the streets of Limburg and admired the historical buildings until we found an Italian ice-cream parlor.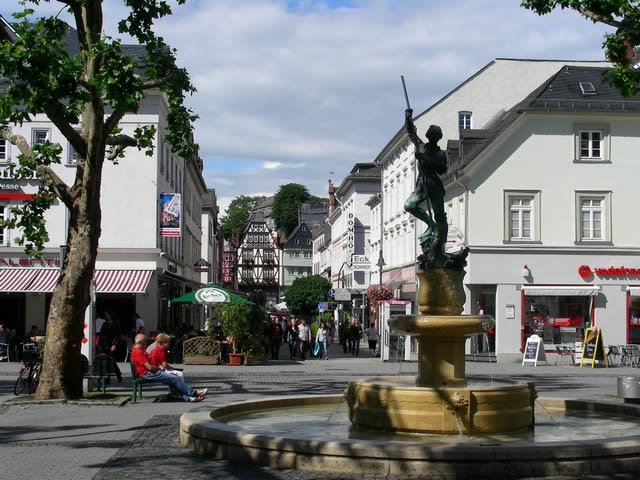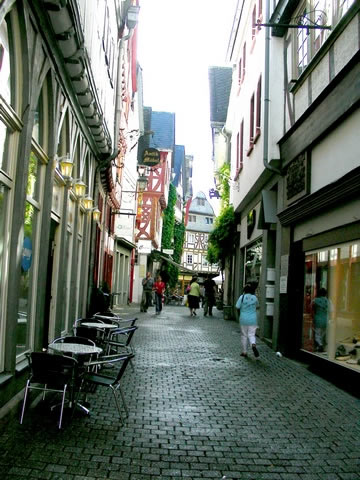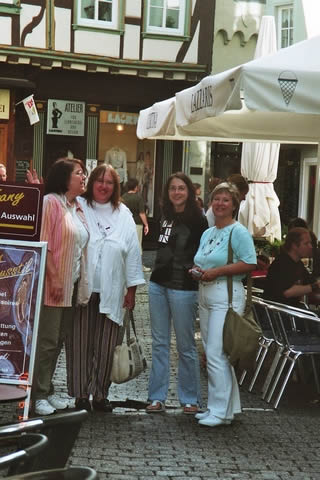 Of course it was a must to try the ice cream and we didn't regret this decision. It was really very yummy! The owner Fabio is a native Italian and he also knows Jackie and his movies.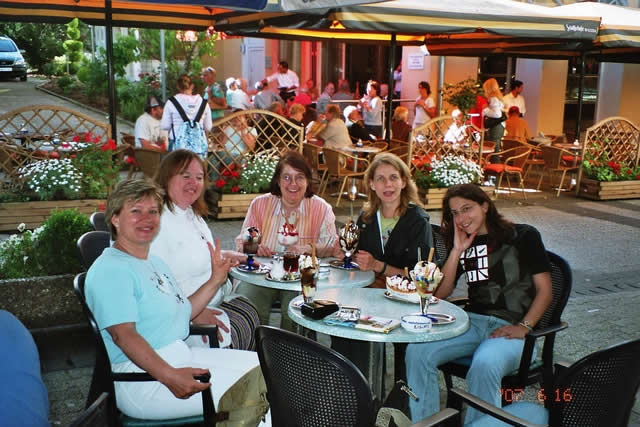 The whole time we chatted continuously about Jackie and Hong Kong, shared funny experiences as well as exciting ones. The people around us may have wondered about those funny ladies – haha!
After finishing the delicious ice cream cups we walked back to the multi-storey car park near the railway station and jumped into the two cars to go to the village of Molsberg, where Ute's house is located. After a 20- minute- ride we arrived there and got a friendly welcome by Kelvin, Ute's doggie.
Everyone "checked in" and then we took seats in the garden in front of the house. Because some of us had already been in Hong Kong last and also this year, we began to chat about these travels and to share our photos and experiences. Ute and Silke were in Hong Kong last year in April and there they were immensely lucky to meet Jackie in his office. Jutta had won a journey to Hong Kong and Bali through an online game in connection with the DVD release of New Police Story in Germany and so she visited Hong Kong last year in September. And finally Sabine was in Hong Kong this year in April and she also had the chance to meet Jackie in his office between two meetings. So we all had a lot to chat about, many questions were asked, many memories came back and scrapbooks and photos went from hand to hand.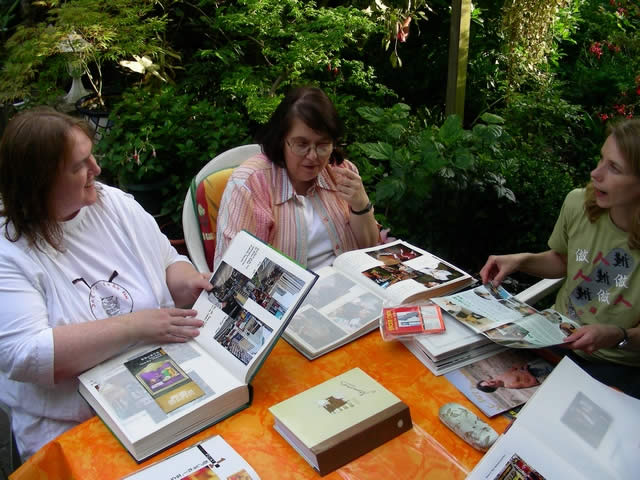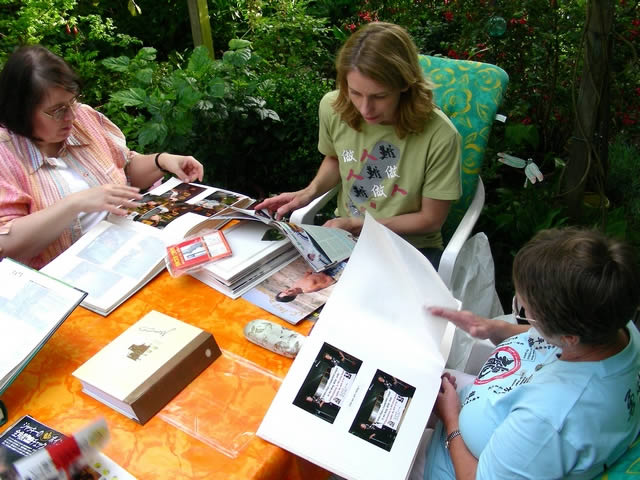 The time passed by very quickly and it was time for dinner. Ute and Silke prepared some sandwiches and fresh vegetables to refresh all of us. After finishing the dinner it was time for a movie: Rob-B-Hood.
But before we began to watch it, Ute suddenly said, that she had prepared a short quiz about Jackie to test our fan knowledge. The next minutes the five of us tried to find the right answers to the following questions:
1. What was Jackie's name at the China Drama Academy? (Yuen Lo)
2. What was the name of Jackie's first love ever? (Oh Chang)
3. In which of Bruce Lee's movies Jackie did a dangerous stunt? (Fist of Fury)
4. In which movie Jackie had to fight against wooden figures? (Shaolin Wooden Men)
5. What was the first movie with Golden Harvest, where Jackie has directed and has played the leading role? (Dragon Lord)
6. In which of his movies had Jackie almost lost his life? (Armour of God)
Almost all questions were answered correctly by us (sure, we are well informed fans ) and then Ute surprised us with great prizes, like a crystal key chain for the first place, an autographed photo for the second place, a telephone card for the third place and nice photos for the fourth and fifth place. What a nice idea!
Now we watched Rob-B-Hood. Not everyone of us had been able to watch this great movie until then. We all enjoyed it very much and Silke also talked about her trip for one night to Venice to take part in the movie's world premiere with Jackie's presence at the Biennale. After the movie we also watched some parts on the Bonus DVD and had much fun watching Jackie with (and his struggle against) the cute little Matthew and looking at the MV's. At the end we gave a big applause.
Now it was already late at night (or should I better say 'early in the morning'? ) and we went to bed.
The next morning started with a great breakfast in front of the house in the sunshine and with another surprise. Everybody found a mug with a photo of Jackie and the words "Jackie Chan Fantreffen Molsberg Juni 2007" on it at her place. That was a big pleasure and nobody dared to use the mug and took it as a memory.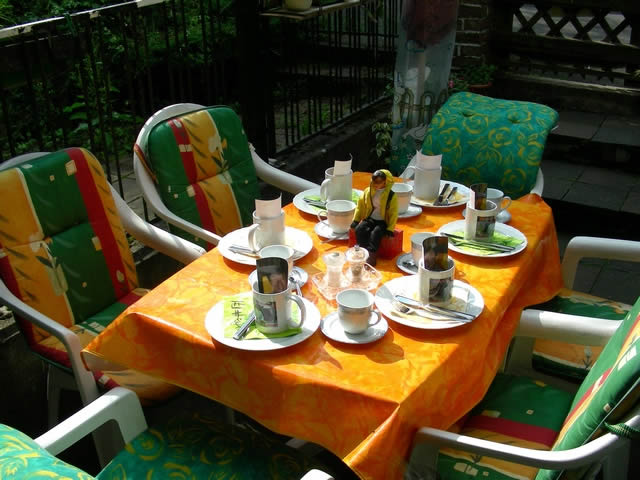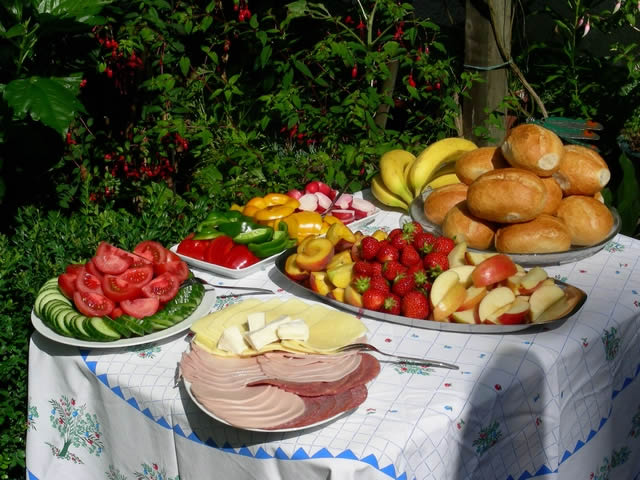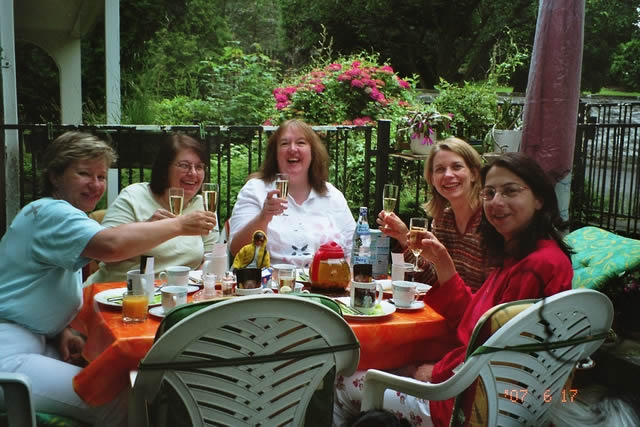 After breakfast Jutta, Iris and Ute practised a little Tai Chi and shared their experiences with the different styles they had learnt.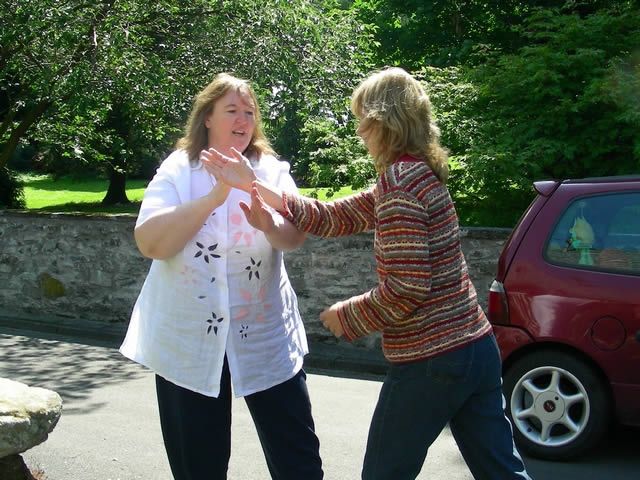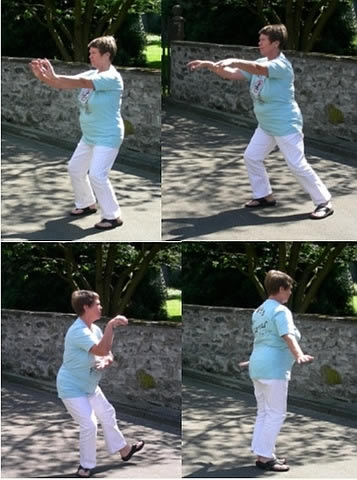 Later we began to prepare a small BBQ. Silke had the function of the 'grill master' and all of us enjoyed the meat, sausages, bread and vegetables. To sit under the trees and to enjoy the food gave us a feeling like being on vacation.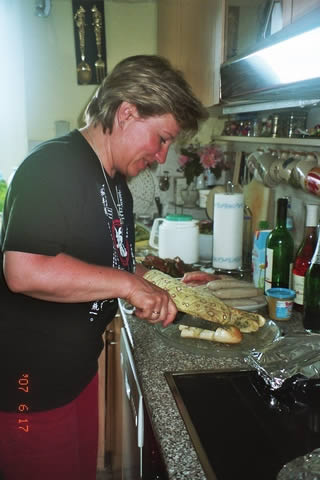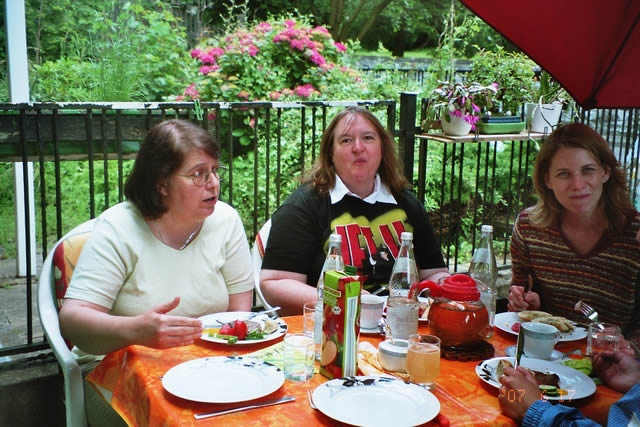 And there was even more... Ute and Silke decided to invite all their friends to this weekend in a special way: Silke had sponsored the printed mugs and both of them told to the participants, that the received fee for the nutritions will be used for a donation to Jackie's Build-A-School-Project. Silke is going to take the amount of 100 Euro (~ 134 US $) with her when she comes to Hong Kong in August and she will take it personal to Jackie's office.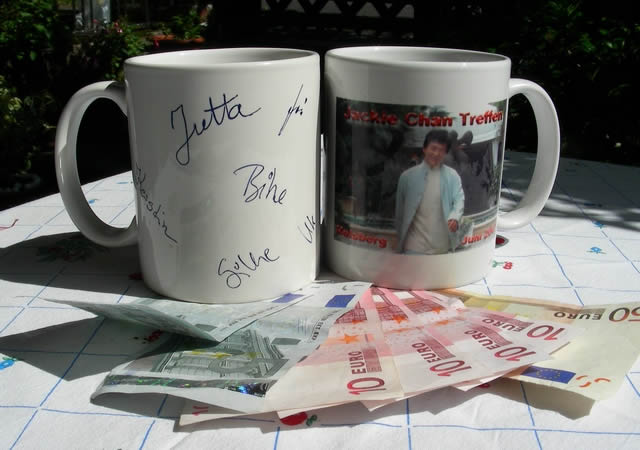 Some time later it was unfortunately time to go home.
It was a wonderful weekend and we became real friends. Our thoughts were often far away and many wishes flew through the air to greet Jackie and Hong Kong!
We are all sure that we will meet again, maybe already next year!
Jackie, thank you very much for bringing people together. We probably would NEVER have met without being your fans – we surely would have missed a lot of fun and pleasure.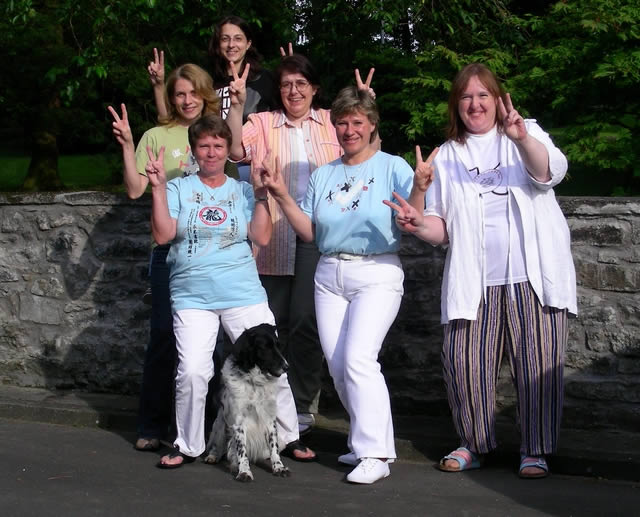 With love
Ute, Silke, Iris, Sabine, Kerstin and Jutta
Germany