In honour of Jackie Chan's birthday on the 7th of April, my friends and I decided that we wanted to do something special. On the weekend of the 11th, 12th and 13th of April 2008 my dear friends, Silke, Ralf, Maike, Claudia, Jessie, Nina and Dan, whom I have met through Jackie Chan's International Friends Forum, came to visit me in Rotterdam to celebrate Jackie's birthday and all our birthday's together. Another member of the Friends Forum, my good friend Nelleke also joined us.
On Friday the 11th Nelleke and I went to meet Dan at Rotterdam Airport: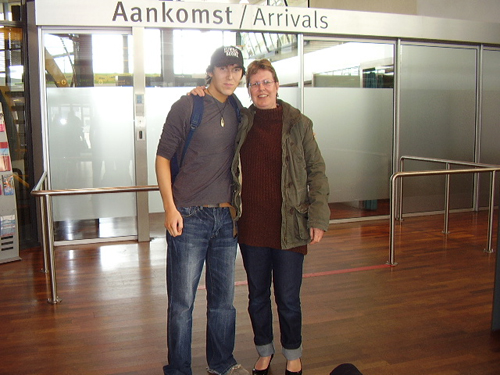 The three of us went on to Rotterdam Central Station to meet Silke, Claudia, Jessie and Nina. Ralf and Maike would join us the next day: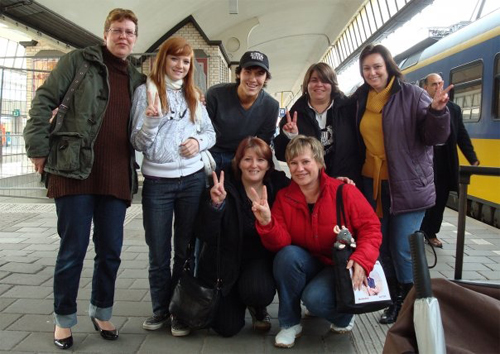 After greeting everyone at the station we caught the metro back to my house where my husband Hendrik greeted us with a nice cup of tea and coffee: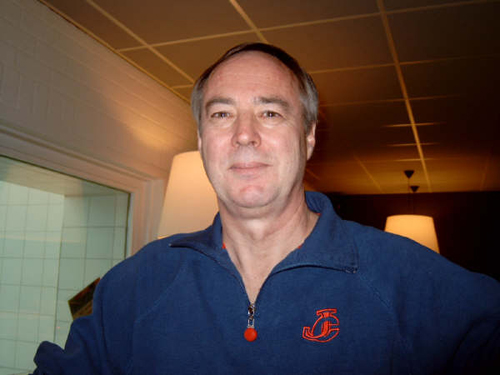 While we were talking about our favourite subject Jackie Chan and his movie's Silke surprised us with a quiz about the movie "Who am I", we had to answer 15 questions.
I got most of the questions right, I won a fan magazine which featured the shooting of "Who am I.". Jackie filmed a lot of the scenes in Rotterdam, so I was very happy with my prize. The others won a key-ring with their names written in Chinese.
After the quiz we all settled down to watch "Who am I".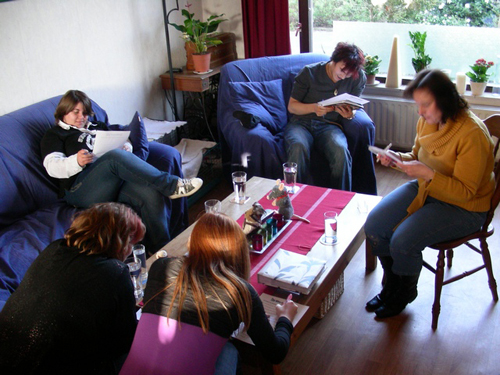 Because it was my birthday that day Nina came up with a very funny game for me. While reading a poem she wrote for me, she treated me to a strange kind of birthday beauty treatment: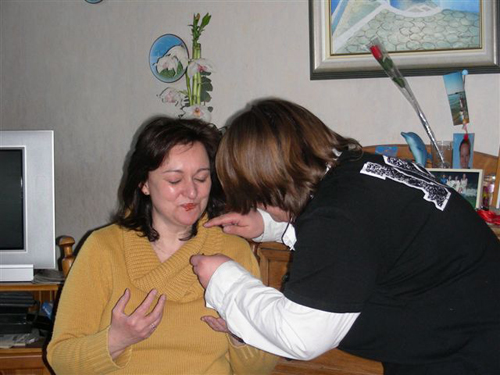 Because Dan also has a birthday in April, Nina treated him to a simular treatment: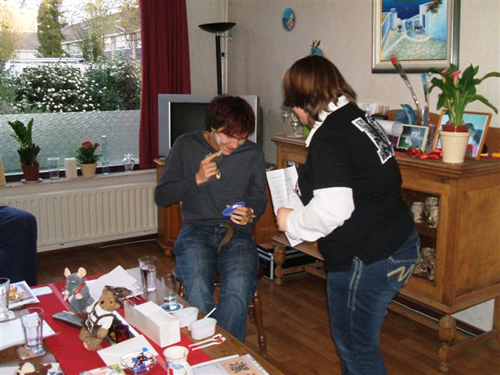 We all had a lot of fun together and later that evening we raised our glasses to propose a toast to the man who brought us all together, our hero Jackie Chan.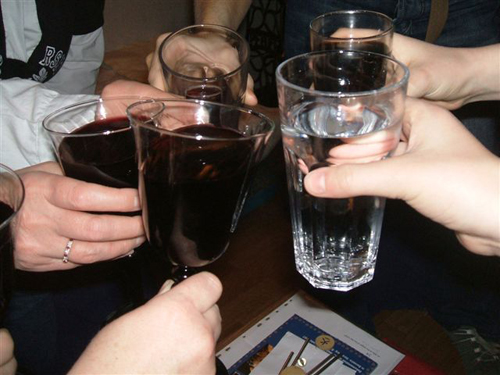 The next day we went down to Rotterdam center to see the Euromast.
The Euromast is a tower in Rotterdam. It has a "crow's nest"observation platform 96 meters (315 ft) above ground and a restaurant. Originally 101 meters (331 ft) in height it was the tallest building in Rotterdam. It lost this position for a while, but regained it when the "Space Tower" was added to the top of the building in 1970 giving an additional 85 meters (279 ft).
Of course we went up in the Space Tower. Luckly the weather was fine so you could see out for miles: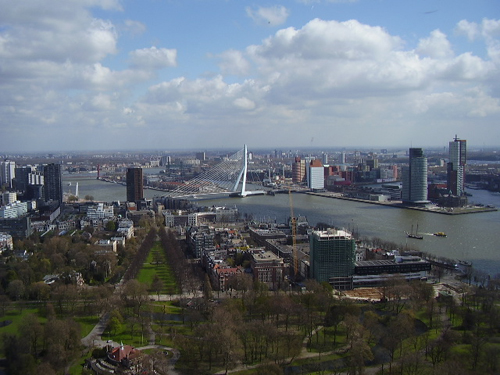 After climbing the Euromast (well we used the elevator) we went to Rotterdam Central Station to meet Silke's husband Ralf and daughter Maike. We then went back to my house to prepare for our birthday party. The party was to be held at De Korte Sport Institute in Hoogvliet, where I am a member. I go there for medical fitness. The owners Bas and Willem de Korte very kindly let me use their facilities for the party.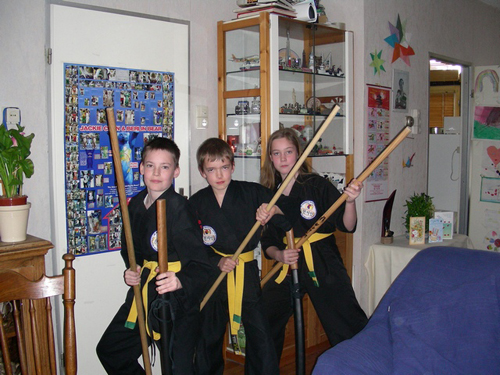 A lot of my friends and family came to the party and instead of giving me a present they donated money to the Build a School for a Dollar project.

This is a photo of Theo, he organised everything for me. He provided all the food, drinks and muziek. He also let us use the gymnasium so that all the children could play. He did a fantastic job, thank you very much Theo!!!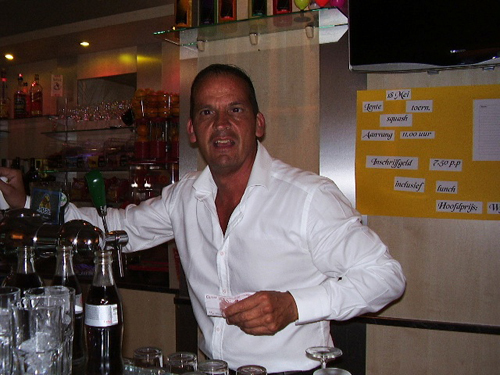 During the party I held a little speech, thanking everyone for coming and for their donations. I talked about how important the Build a School project has become, that it is not just about raising money to build schools but it is also about teaching each other how to give and how to care. How its brought people from all over the world together to participate in this wonderful project and through this project have become good friends. I also talked about the progress, how much money that has already been raised world wide and that it won't be long before the first Build a School for a Dollar project school will be built. Everyone was very excited about the progress the project is making: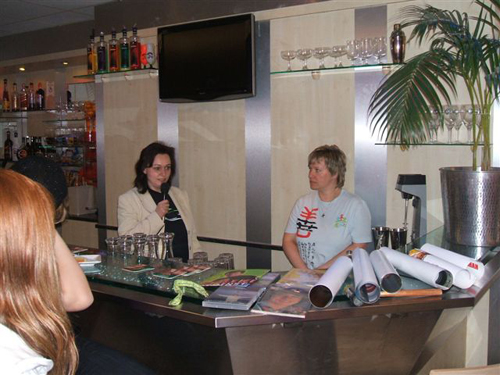 After my little speech it was time for Silke's auction. Silke had brought with her 12 beautiful Jackie items to sell. There were two DVD's, four posters, three big photos of Jackie, two photo books and one cell phone lanyard. Its was so exciting, the bidding went very high, everything was sold!!!! Silke counted the money and she nearly fainted. She did not expect such a larg amount. She raised 275 euro's!!!! WOW what a fantastic amount!!!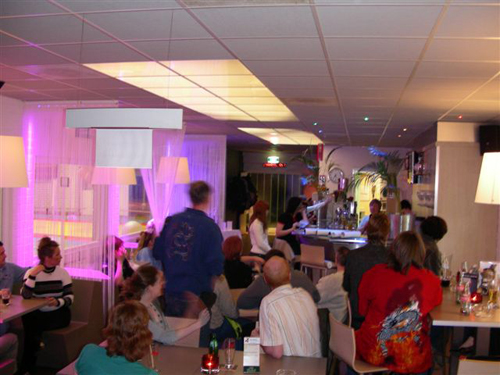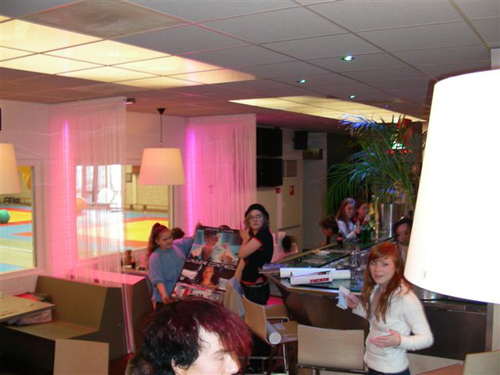 After the auction Jessie and Maike had a surprise for us. They treated us to a modern dance performance. Everyone was very impressed and enjoyed it very much: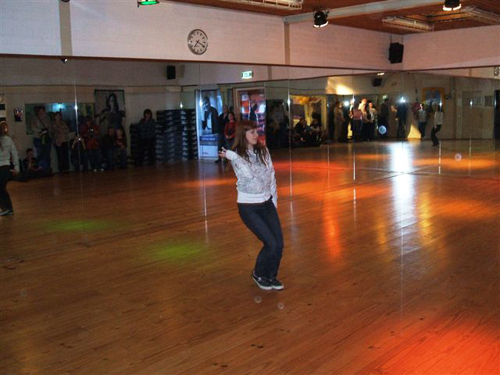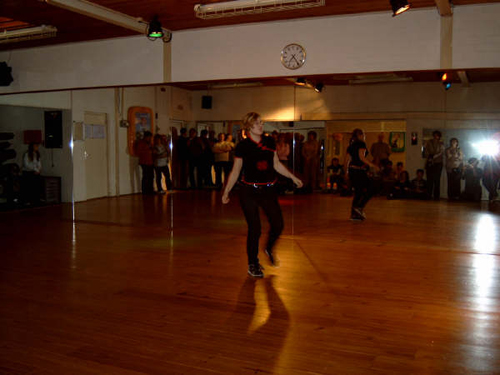 We all had a great time but time fly's when your having fun and soon it was time for us to go home. But the fun did not stop there. While my husband and I were putting the kids to bed, my friends down stairs were organising party games: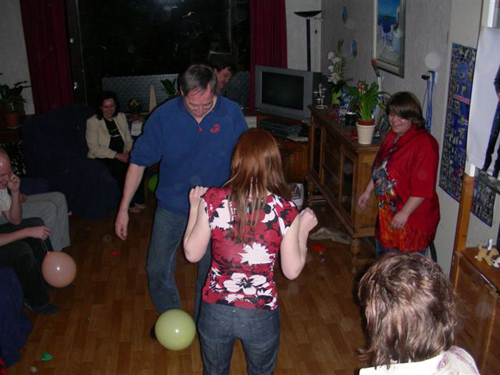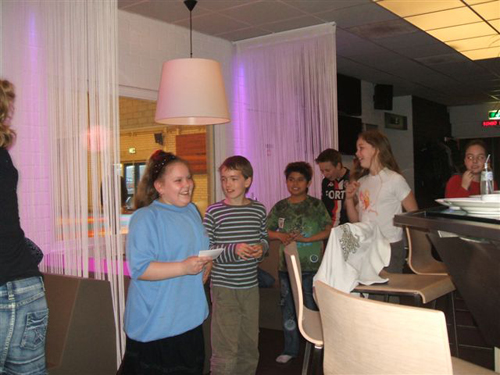 I can't remember the last time I laughed so much, we had so much fun. You would think that after the party and playing party games everyone would be tired and want to go to bed. No way!!! We were up all night talking and telling funny stories.
The next morning we all got ready to go down to Rotterdam for the Who am I tour. We were going to visit all the places that Jackie filmed in Rotterdam. My husband and children could not go with us. Thomas and Christine had to attend the Open Dutch National Championship Hapkido that was being held that same weekend. Last year they were National Champions so they had to defend their title's: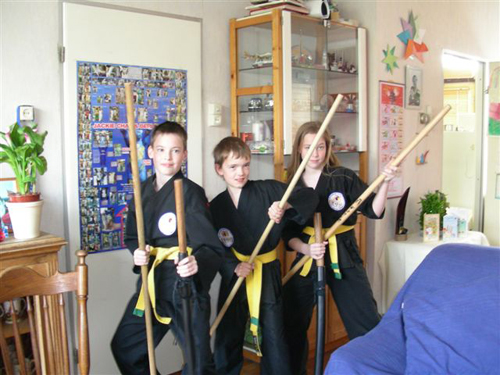 But before we left Silke had a surprise for us. She had made t-shirts for us. On the front of the t-shirt she put a beautiful photo of Jackie, on the back she put one letter, all the letters together showd the title "Who am I". It was a great idea of Silke to do this and of course we all wore our t-shirts for the Who am I tour: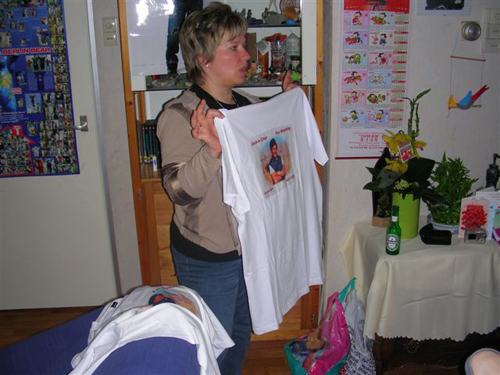 Our first stop was the "koop goot". Its the shopping center with a long flight of stairs where Jackie drove down in the car chase scene.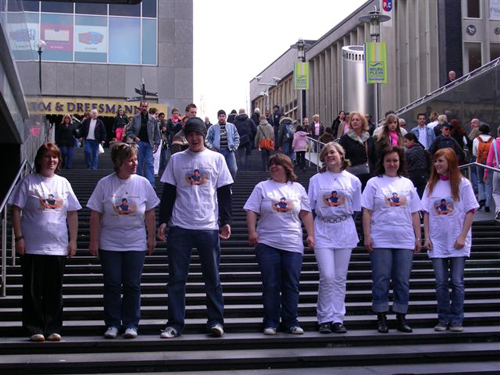 Then we walked down the Coolsingel where the car chase continued. It was very busy in the town center because the Rotterdam Marathon was being held that day.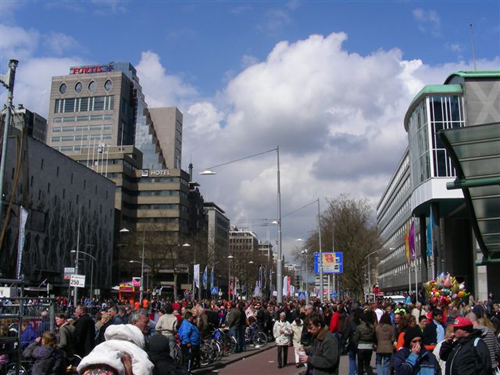 Our next stop was the Kubus woningen. They are funny looking houses build in the form of a cube. That is where Jackie had the fight scene where he lost his shoes.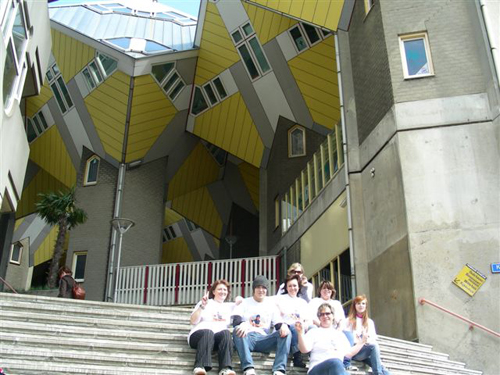 We all got a little tired so we stopped for a short break at a little restaurant by the harbour. We were very luck with the weather, the weather forcast had predicted rain all day but it turned out to be a lovely day.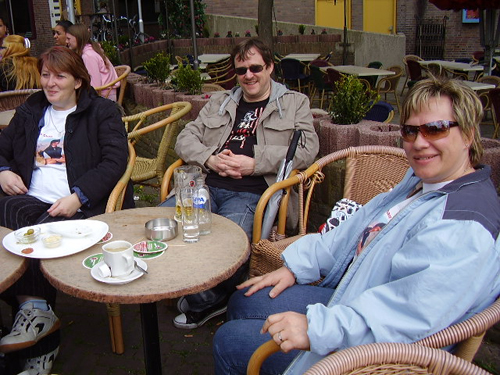 After our short break we went on to the hightlight of the tour, the "Willems Werf". That is the very tall building where Jackie did his breath-taking and nerve-racking stunt. He jumped off the roof and slid down the side of the building. We all got goose bumps while looking up at the building. We were all very impressed.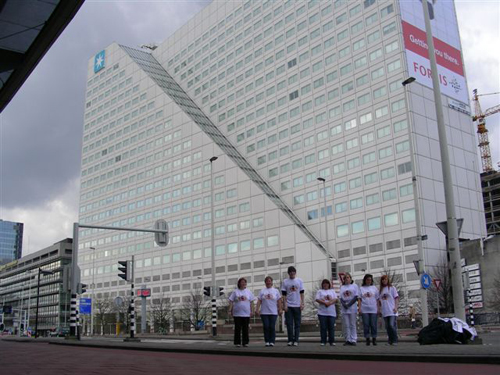 We walked along the waterfront where we passed the cafe where Jackie also filmed a scene. It is no longer a cafe, it is now a fitness center.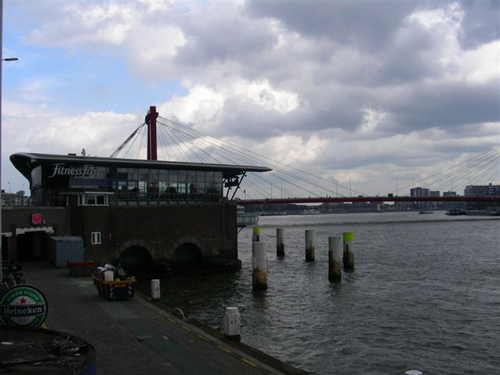 Further along we stopped at the Eurasmus Bridge, also known as the Swan because of its shape. There Jackie filmed his last scene.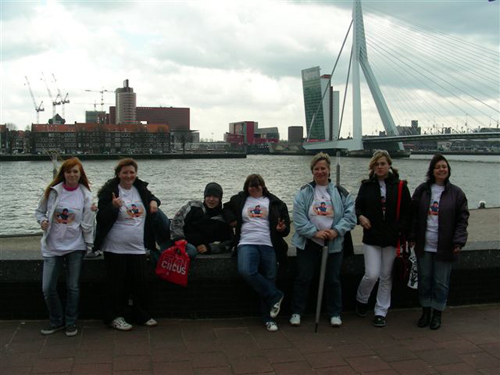 On our way back we stopped at the Avenue of Stars of Rotterdam. There we found Jackie's handprints in the concrete.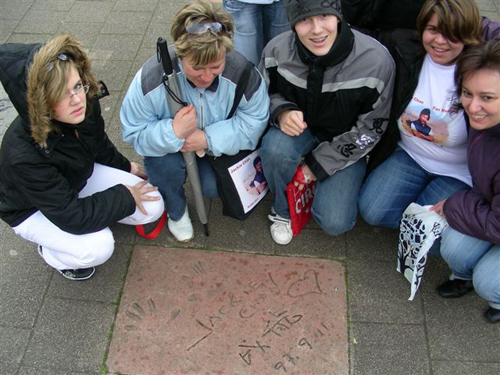 Here is where the tour ended and just in time to, it started to rain so we all hurried to catch the metro back to my house. Later that evening we went to our local Chinese restaurant for a lovely meal and also to celebrate the fact that Thomas and Christine had defended there title as Dutch national Hapkido champions and won again!!!!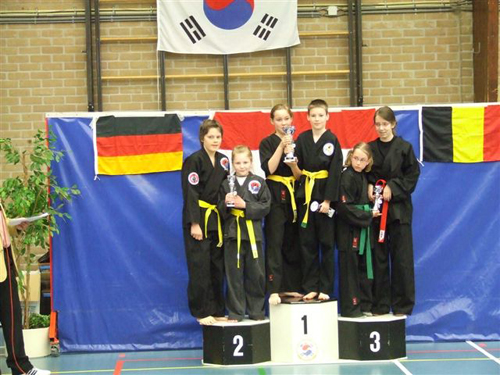 When the owner of the restaurant heard about our Jackie Chan fan meeting and birthday party she gave us all a very nice present, she gave us golden piggy banks. She said if we use the piggy banks to save up for our next journey to Hong Kong it will bring us luck.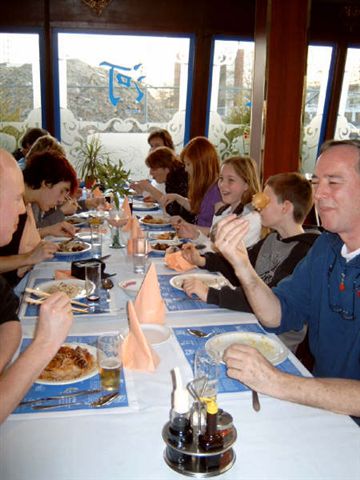 When we got back from the restaurant we sat down to count the money that was raised at the birthday party, including the money from the auction we raised 430 euro's!!!
I want to thank all my family and friends for their generosity.
The next day it was time to say goodbye to my friends. Silke and family left in the morning and Claudia, Jessie, Nina and Dan left in the afternoon. I was very sad to see them go, we had such a great time together and we have become such good friends. I want to thank my dear friends for giving me a birthday I will never forget and for all the lovely presents they gave me.
I also want to thank Jackie Chan from the bottom of my heart for bringing us together.
Kitty Engelmoer
the Netherlands
KIDS CORNER FRONT PAGE / LATEST JACKIE NEWS / TOTALLY FUN JACKIE STUFF
OFFICIAL SITE HOME PAGE
©2008 The JC Group
No part of this website may be reproduced or distributed without permission