Dear Jackie,
You might have heard that a few fans from the Jackie Chan Kids Corner Forum wanted to go to Paris to see the premiere of your new film, Rush Hour 3, but we didn't know that you were in Paris much earlier, for the pre-premiere! We all were very sad because at this time, when you were there, none of us could go! We first wanted to see YOU, of course, and the movie, but we also wanted to make a small fan meeting in Paris.
THE DECISION
After our sadness was over a little, we decided to meet each other and to make a fan meeting in YOUR name! We were: Silke and her husband Ralph from Germany, Dagmar from Bratislava, Kitty from the Netherlands, Nina from eastern Austria, and I, Claudia, and my family (Martin, my husband, and my children, Jessica and Luke) from the western part of Austria.

Now we had to think, where and when we would meet each other? I said, first in a joke, that I had already someone from the Kids Corner forum here in our house in the summer, and I think Dan felt happy here, so I told them, why don't you also come to us? After a few days, everyone was pleased and my joke became reality! I couldn't believe that we really will meet with people from 4 different countries. We really were amazed and from Thursday 11th October to Monday 15th October they all were in our house!!
But now, I had some things to do. To think, what I will cook for so many people? I had to clean the house, especially the loft where all slept, and I wanted to show our friends our surroundings! We were all very excited, before the meeting and wrote several e-mails and it was so great that we've done it! The days were really so nice, even if it was a short time!
THE ARRIVAL
Let me tell you, how everyone came to us! You will be stunned:
Silke and Ralph drove about 6 hours by car! Dagmar and Nina slept first in Vienna at Daniela's house, also a very big fan of yours, and then they went by bus to the airport, flew to Innsbruck and then they drove by train two hours to our station in Dornbirn! Kitty got from Rotterdam to Amsterdam, flew then to Frankfurt, had to wait several hours, and then she came by plane to Friedrichshafen, Germany, where we met her and drove to our house! Well, finally on Friday in the late afternoon, we were all together in our home!
WHAT WE'VE DONE
Silke and Ralph came on Thursday to us, and I showed them a small, but very interesting canyon near us: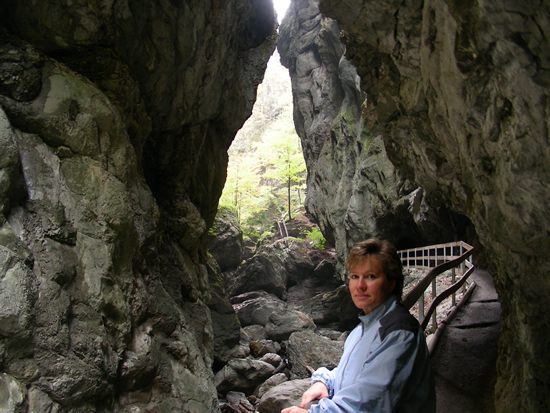 We were at a wonderful, small canyon!
On Friday morning and afternoon, all the others arrived and we visited first Bregenz, our main city, with the biggest outdoor stage in the world! Friday evening, we looked at several of your films, Jackie.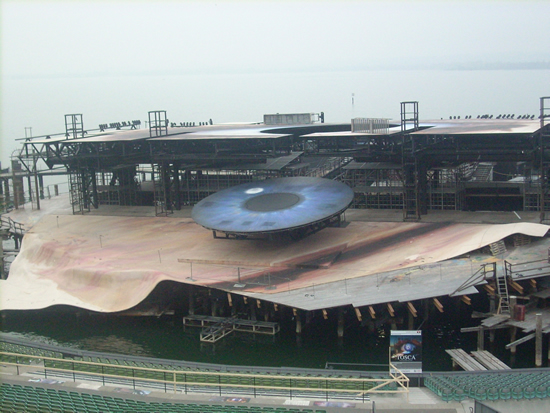 We looked at the magic eye from the Opera Tosca at the biggest outdoor stage of the world!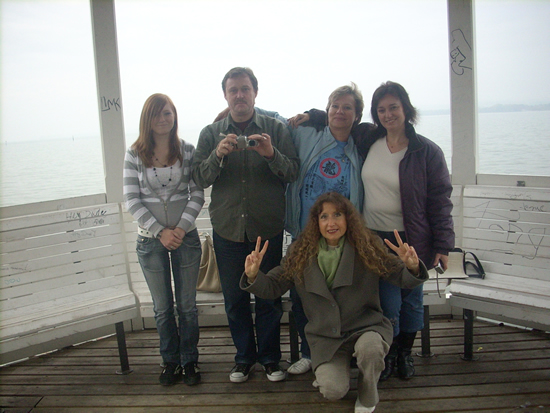 We took photos at a lovely Pavillon at the Lake of Constance in Bregenz...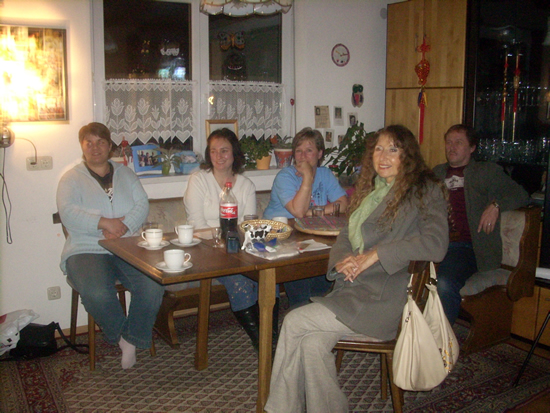 ... and looked at several films from Jackie and others!
At 8 o'clock p.m. we got a very special phone call from Debi, a big fan of yours from America, who also wanted to be with us, but she lives so far away. So as a surprise she phoned us and we all were very touched! We chatted in English and German and it was very funny and a long evening!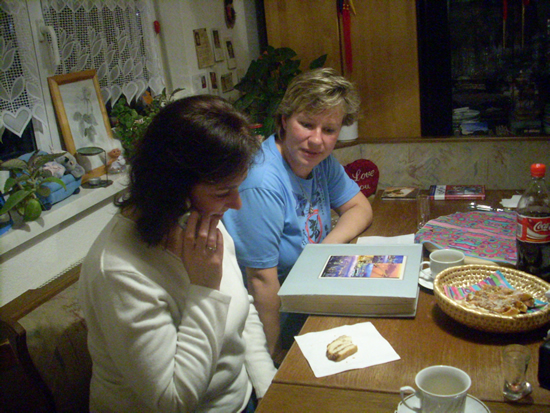 We got a phone-call from Debi! We were really touched!
On Saturday, we visited first a lovely and very interesting museum...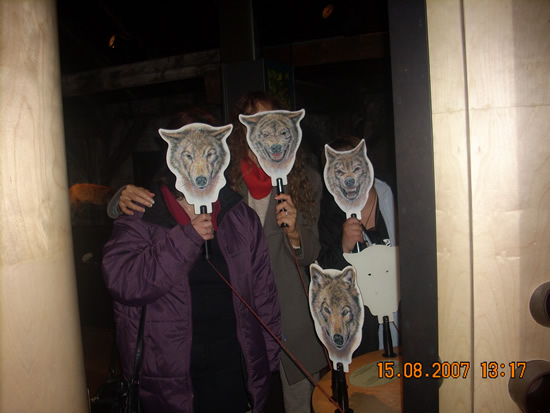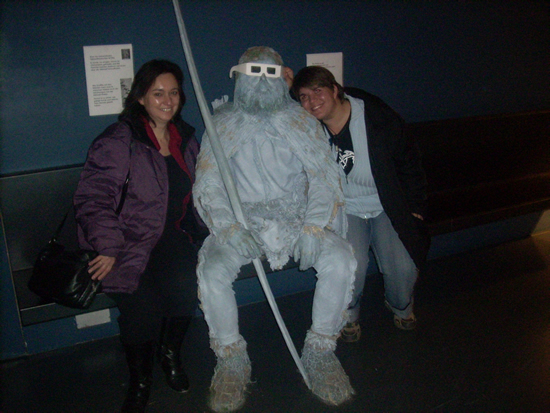 Then we made a special project for Build a School for a Dollar. Afterwards, we went to a lovely Chinese restaurant, with a bowling hall...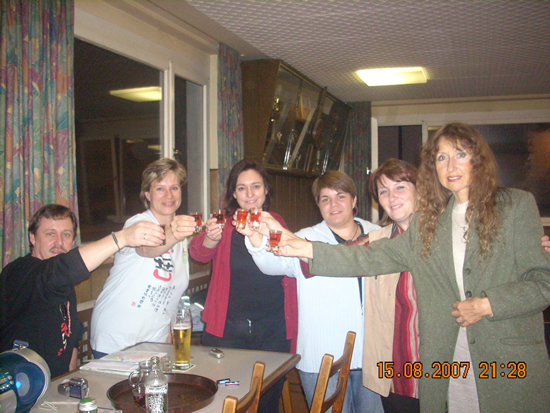 After the museum we went to a lovely Chinese restaurant, where we got a wonderful Chinese drink after the meal and...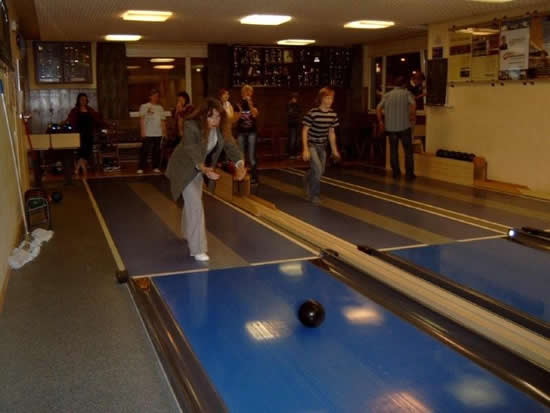 then we could bowl in the next room!
Silke also had a surprise: She gave a puzzle to everyone, but we first had to build the puzzles, and then we saw a photo, of YOU, Jackie, on every puzzle! It was great!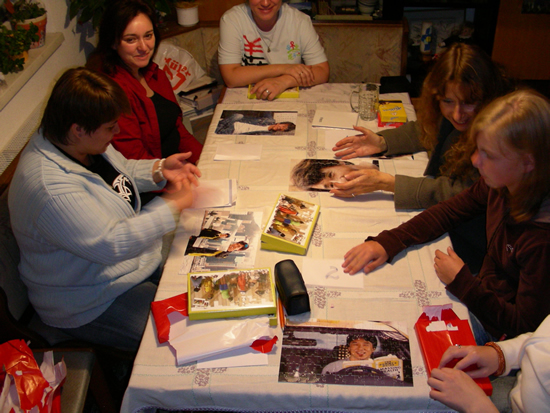 Silke suprised us with a nice puzzle! And the solution was YOU, Jackie, as a lovely photo!
On Sunday we had breakfast at a restaurant, where we had to drive first in a cable car. We showed our guests how we live and where my husband is working.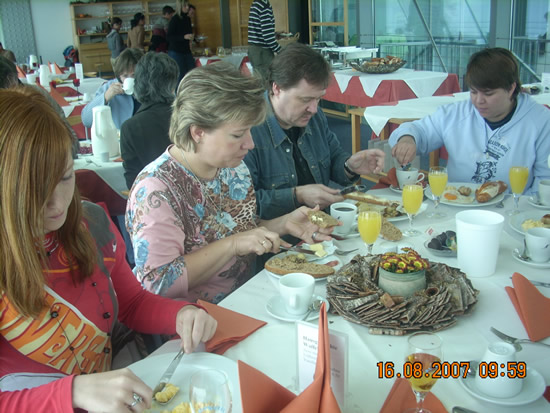 We had a wonderful breakfast at a restaurant in our mountains.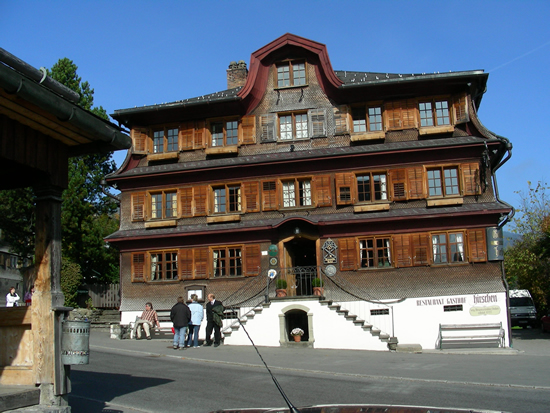 And we showed our guests, where Martin, my husband, works!
On Sunday and Monday all our guests had to drive home again, and it was very hard to let them go home! It was so interesting and fun, although we had only a few days, it was really worth it! First we were strangers (I just had met Silke and Dagmar once in Venice at the film festival for Rob-B-Hood) and very soon, we all became friends! It was also great to show many things, to show our special food from our country, to play, to look at videos and to chat with all!
THANKS SO MUCH
I just want to say thanks so much to Silke, Ralph, Dagmar, Nina, Kitty for coming and for the lovely presents from all of you and for being friends! Thanks! It was great to have you here!! And of course, thanks to YOU Jackie and Kath, without you and the Kids Corner forum we wouldn't know each other and we will never forget this wonderful opportunity and this great fan meeting!!
Hugs from Claudia and family!
TO SEE THE PROJECT THAT THE FRIENDS MADE FOR THE BUILD A SCHOOL PROJECT, CLICK HERE
KIDS CORNER FRONT PAGE / LATEST JACKIE NEWS / TOTALLY FUN JACKIE STUFF
OFFICIAL SITE HOME PAGE
©2008 The JC Group
No part of this website may be reproduced or distributed without permission