Shanghai

Shanghai is a shopping paradise. We did so much shopping in Shanghai and me and dad went with my mum and Lindy to a huge shopping mall and Mum and Lindy took so long just on the first floor we had to leave (hahaha). They just wanted to look at the shoes.

One thing scary happened in Shanghai, let me tell you.
Ok, we went to the fake markets. The fake markets sell all fake clothing, bag, shoes, toys, watches and everything. I loved the fake markets so much I want to go back. Anyway we were shopping and the sky all of a sudden went black. A really strong wind came, small parts of mud were flying in our faces and the wind was so strong it blew over shells and took off roofs on the markets. Then it just rained so, so heavy for about 15 minutes. It was the worse storm I have ever been in, but we were all ok. The storm made it on the front page of the paper the next day, that's how bad it was.
After Shanghai we went back to Hong Kong for a few days then went back home. I was happy to be home but sad that it was all over.
Thanks everyone for reading my short story and wishing me all the best for my trip.
Here are a few more photos of Matty's trip: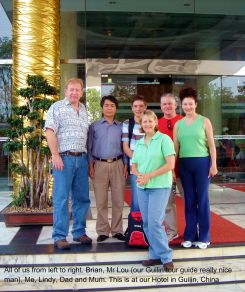 All of us from left to right: Brian, Mr. Lou (our Guilin tour guide - a really nice man), Me, Lindy, Dan, and Mum. This is at our Hotel in Guilin, China.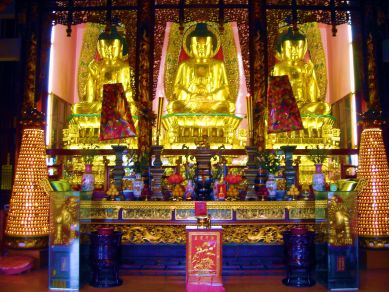 Inside temple.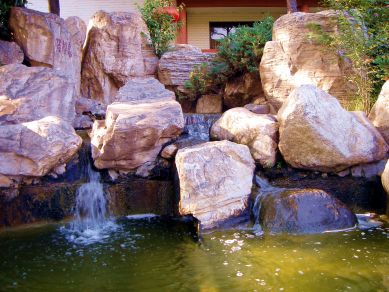 Waterfall.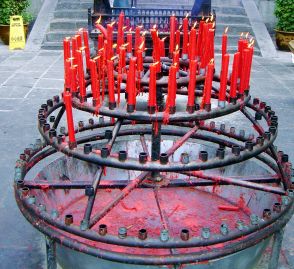 Temple with candles.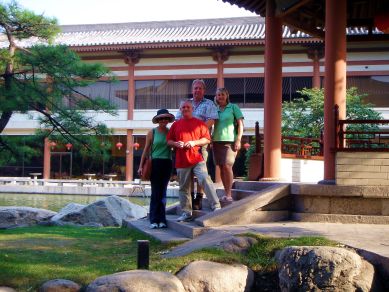 Family.
A big thank you to Matty for sharing his wonderful stories and photos with the Kids Corner!
KIDS CORNER HOME / LATEST JACKIE NEWS
©2005 The JC Group /Jackie Chan Kids Corner
The Jackie Chan Kids Corner is part of The Official Jackie Chan Website run by the JC Group in Hong Kong
No part of this website may be reproduced or distributed without permission