Speaking of weather, the August Hong Kong weather was actually something we were familiar with, sort of. It was very hot and humid. The difference is that in Wisconsin during the summer, the high heat and humidity usually only last a day or two and then it cools down to a bearable temperature again. While we were in Hong Kong it was constantly hot and extremely humid. People often walked around with umbrellas to block the sun. It even stayed hot late at night. Thank goodness almost everywhere we went in Hong Kong had great air conditioning. Even the open front stores had air conditioning. As we walked down Nathan Road to get to the ferry each day, we tried to walk on the side of the sidewalk closest to the stores so we could get blasts of cool air from the shops as we walked along.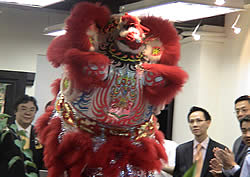 The Lion blesses the new business and drives away any evil.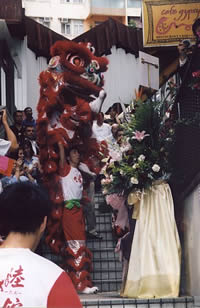 The Lion Dance in Central. See the young man working the lion?
Like the water fountain, something we had never seen before was a lion dance. There is nothing in Wisconsin that I can even compare the lion dance to. We happened by a new shop that was opening and the lion dancers were just preparing for the celebration. We watched from the moment they got ready until they were done and walking away down the street. Kath filmed and we took as many pictures as we could. I started feeling a little uncomfortable about taking so many pictures. Nobody else around us was taking any. I thought, "Oh, my gosh, we must look like typical tourists."
But as the lion dance was finishing, some of the people in the shop smiled and waved to us. They made us feel such a part of what was going on. It was so nice.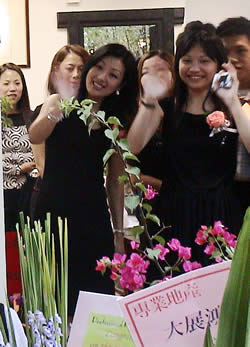 Hong Kong residents wave, making us feel right at home.
There may have been a few things in Hong Kong that we had never seen at home, but there were a couple of things that were almost just the same. Of course we had to check out the TV at the hotel. Many of the channels were just like what we watch in Madison. There were music channels, some in Chinese and some in English. There were quite a few shows that were in English, including Teletubbies. Nic and Steph got into the sports channel. But instead of watching football or baseball, they watched badminton and ping pong.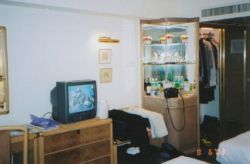 Watching TV in Hong Kong.
One of our favorite things to do as a family is to watch movies. How fun that we got to do this in Hong Kong. Sure, it was at a beautiful convention center with hundreds of people including Jackie, not a small cinema in Madison or our living room. And Nic was disappointed there wasn't any popcorn, but we still sat as a family and had a great time watching The Medallion. Then, just like at home, we discussed the movie afterwards and talked about our favorite parts. Our family can spend a lot of time discussing a movie. We really enjoy it.
Here we are with our new friend Patrick.
Family. This was the mostest, bestest thing about Hong Kong. Family and friends. We never ever felt alone in Hong Kong. We met so many friendly people. Everywhere we went the people were smiling and eager to help us and talk to us. Through the fan club, we made friends with people from all over the world: from Germany to other parts of the US like Hawaii and the East Coast. But no matter where we were from, we all were a part of a family. The Jackie Family. Jackie and everyone with the JC Group made us feel like one big family. They made us feel very comfortable every moment. From the wonderful meals they served us to opening up their home to us.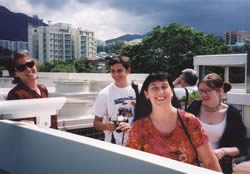 Having a laugh with friends on the rooftop of Jackie's offices on Waterloo Road.
Yes, Jackie's home (office) was different from ours. But not so much after we looked around. He had a couch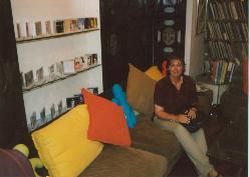 Kath sits on Jackie's couch.
we could sit on, a TV, movies, music, photo albums, toys, collections, books and magazines. Jackie's bedroom was different from ours, but not so much different when you really looked around. He had blankets, a pillow and slippers. Jackie had more people at his house than we do. But everyone was very nice and happy we had come.
We were very excited to go to Hong Kong, but also a bit nervous about how different it would be. But after a while, we found it really wasn't so different from home. After a week we felt it WAS home. We were very sad to leave and are very eager to go back again. It was the perfect sleep over.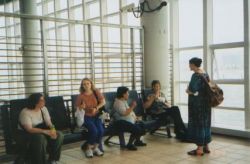 New friends waiting for the Star Ferry.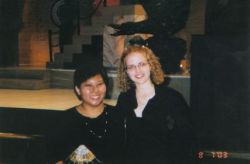 New friends: Judy from Hawaii and Jewel from Germany!
The End
KIDS CORNER FRONT PAGE / LATEST JACKIE NEWS / TOTALLY FUN JACKIE STUFF / OFFICIAL SITE HOME PAGE
©2003 Lisa Schwark
Photos: ©2003 Katharine Schroeder/Jackie Chan Kids Corner, Lisa Schwark, Mark Schwark
©2003 Katharine Schroeder/Jackie Chan Kids Corner
No part of this website may be reproduced or distributed without permission