The shop owners brought out many masks for Kath to look at. With each mask that was put on the counter, there was a story that went with it. Some masks were very lovely and some were scary looking. But all the stories were interesting. Kath ended up buying a nice assortment of masks. I think she picked some of them because she liked the story that went with it.
Next it was my turn. All I had to do was say I collect dragons and there they were on the counter in front of me. Large dragons, small dragons, jade dragons, brass dragons. It took me a long time to choose a couple of favorites. I finally picked several small ones, one made of a green stone, a brass one holding a glass ball and a dragon shaped bracelet. It sure was hard to leave the rest behind. Here are the dragons I bought: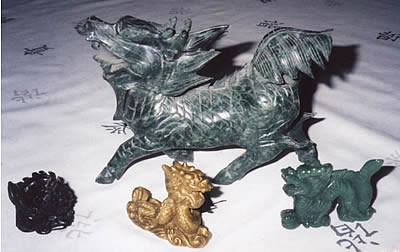 And here's a close-up of the bronze dragon: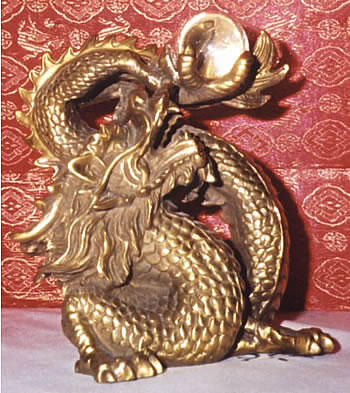 Now, the only thing Nic wanted to buy during our trip to Hong Kong was a fancy sword of some kind. He had already found one at a shop at Victoria Peak, but I don't think it was exactly what he was looking for. This shop was our lucky shop, because not only did Kath find masks, and me dragons, but Nic found a really cool sword. It was actually a double sword set. It was gold with red tassels coming off the handles. The blades themselves have a neat design on them. The shop owner said the swords were used for practicing Tai Chi. So the blades are very flexible and light and they aren't sharp at all. We had no idea how we would fit the sword in our luggage, but Nic couldn't leave the shop without it.
Here's Nic's sword set: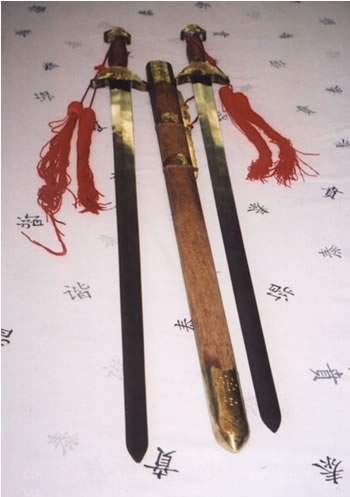 Stephanie wasn't even looking for anything in particular, but she found something too. After looking at some of the jewelry and the tiny Chinese shoes, she found a very pretty purse. It wasn't old or an antique, but she fell in love with it. It had a silky black and gold design with a small jingle bell for the clasp. The shop owner was so nice and friendly to everyone, and he seemed very happy that Stephanie had found something she liked too.
Here's Stephanie's purse: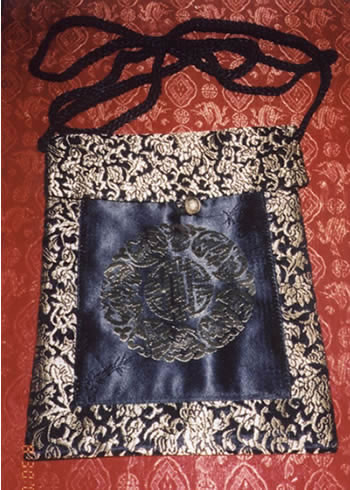 We all had so much fun at this shop. It was difficult to leave because I wanted to hear more stories. But, we had so much more sightseeing to do. If we go back to Hong Kong, we will certainly go back to this shop. It was definitely one of the coolest things about our visit to Hong Kong.
CLICK HERE TO GO BACK TO THE TOTALLY COOL THINGS ABOUT HONG KONG PAGE