A Kids Club Graduate
By Lisa S.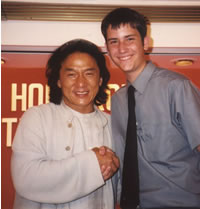 When you have kids of your own, work with kids, play with kids, or spend any kind of time with kids, you constantly experience milestones with them. Some big milestones for young kids are learning to walk and learning to talk. Some milestones for kids starting school could be finding a best friend or getting an A on a math test for the first time. A milestone for an older kid could be learning to drive or going on a first date. One milestone I have never experienced before is having a son graduate from high school. As I thought about the graduation, I realized he was not only graduating from school, but from other things as well. The Official Kids Club Photographer will be a Kids Club graduate.
I realize that the Kids Club is now the Kids Corner on the Official Jackie Chan web site. However, Nic was one of the first 10 members of the Kids Club and grew along with the club as it grew into the Kids Corner and merged with the official site. Even with the change in name, I still consider the kids a special group of members to the fan club. So forgive me if I refer to the "KC" rather than The Official Jackie Chan Fan Club.
Nic was 15 when he became a KC member. He enjoyed Jackie's movies. He liked the comedy and of course what teenager wouldn't like the action. Being a dancer, Nic could appreciate how difficult it really was to do many of the moves that Jackie made look so easy in his movies. And being a lighthearted soul himself, Nic was always up for some good laughs along with the action. Thus, the beginnings of a Jackie Chan fan.
As the KC grew, Nic grew also. Not only to a height of six foot two, but in his understanding of who Jackie Chan really is. With the help of the KC he grew to see how kind a man Jackie is. He found that the fun man he saw in the movies is how the real man is. He learned how compassionate a man Jackie can be. The KC brought across Jackie's beliefs of acceptance and tolerance. These were the same beliefs Nic followed all his young life, so it was a great club to be in.
Soon Nic was 16 and driving. What seemed like just days later, he was 17 and thinking about college and his future. What a perfect time for Nic to meet the man he admired. The man who many mothers would be happy to be a role model for their son. As fate/ luck/chance/good fortune would have it, Nic was able to travel to Hong Kong for the Jackie Chan fan club events last summer. Nic did a lot of growing on that trip and got a great education. Not only did he shake Jackie's hand, he met several members of the very hard working JC staff. He was able to experience another culture. And, he'll never forget being appointed the Official KC photographer by the KC webmaster. Through the camera lens, he experienced so much more of what the trip had to offer. He made a point of looking for the little things. Not only did he see the stage with Jackie standing on it at the fan club dinner, he saw the people serving the food at dinner. He saw the food at the dinner. Not only did he see a movie premiere, he saw all the different people at the premiere. He saw the structure of the beautiful building the premiere was held in. Not only did he see the tourist attractions on the streets of Hong Kong, he saw the street signs and all the different people walking on the streets. Not only did he see the Star Ferry, he saw each person riding it and thought about where they were going. Not only did he see Jackie's office, he saw all the little things that make it what it is. Through the KC camera lens, Nic didn't just visit Hong Kong, he experienced Hong Kong, lived it.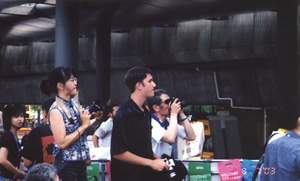 Just a couple of months before turning 18, Nic went on another trip initiated through the KC. He went to New York City for a Jackie Chan charity concert. The concert was cancelled, but the trip was another growing experience. Again, the Official KC photographer and the KC webmaster were teamed up. Nic has always had a good sense of direction. On this trip we found out he has an amazing sense of direction. He got us to places even the KC webmaster had never been to with the subway and busses. The KC webmaster and Nic constantly had their noses to the map planning out how to get to our next adventure. The city was Nic's for the taking. With a map and a transportation pass, there was no stopping him.
Now Nic is 18. He has graduated from high school. He has graduated from the KC and is now an adult Jackie Chan fan. But, Nic well always carry with him the adventures he had as a KC member. He will use those experiences to make new adventures for himself. The KC gave him a nice solid base to build on.
When Nic talks about his future he talks about traveling. He plans to go to Japan, Africa, Nepal and Rome. He wants to live in the culture, not be a weekend tourist. He has always been curious about other countries and interested in travel. The trips he took associated with the KC have deepened that interest. Now he's not just interested in living other cultures, it's something he is drawn to, a need.
Nic no longer will use the KC camera during his adventures as he has a camera of his own now. Through the KC adventures, he discovered he has a natural knack for photography. He found he could slip into any situation and take pictures without disturbing what is going on. He learned to see beyond the big picture and see the small pieces that make up that picture. Even without a camera, this is a good skill to have.
Nic has seen how one man can touch so many people. Nic has seen how one person can make a difference. He has personally met a man who proved you can follow your heart, your dreams and what you believe in, be successful and share your energy with others.
Nic, the KC graduate. A graduate of a club that encourages adventure. A graduate of a club that encourages kindness, caring, acceptance, and empathy. A graduate of a club that encourages being who you are and sharing it with the world. Nic, a KC club graduate, ready and looking forward to another milestone.