The year was 1985 and a student named Nancy was in Central Park in New York City with her friend taking pictures for a school assignment. She noticed a group of Japanese reporters and a very familiar looking Chinese man. Incredibly, that man was Jackie Chan! She and her friend went running at him shouting his name and screaming. Says Nancy, "We were so lucky because Jackie was not famous yet in United States at that time so not too many people recognized him. We ended up spending about an hour with him and the reporters; JUST US, not other fans. Jackie was so nice. He took pictures with us (too bad that we only had black and white film that day because of a school assignment) and talked to us. I truly don't remember what we talked about because it was like a dream to me. I'm glad I have the picture for memory."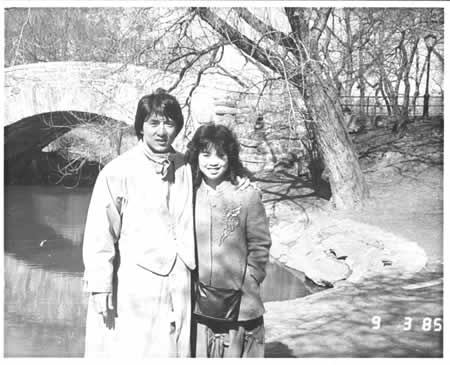 Jackie Chan and Nancy Tsai Hill in Central Park
Nancy is a martial artist and if you'd like to see her in action plus learn about the different styles of martial arts, visit her AWESOME website here.
Thank you to Nancy for letting the Kids Corner tell her story!
KIDS CORNER FRONT PAGE / LATEST JACKIE NEWS / TOTALLY FUN JACKIE STUFF / OFFICIAL SITE HOME PAGE
©2003 Katharine Schroeder/Jackie Chan Kids Corner
No part of this website may be reproduced or distributed without permission