by Kath
Once upon a time and far far away there was a party. Actually, there were a few parties. These parties were in Hong Kong and were organized by a terrific guy named Jackie Chan. They were attended by some of Jackie's most adoring fans. Two of those fans were named Holly and Kath.
Now, as it came to be, Holly and Kath did not know each other. But there they were at the same parties, on the same buses, and in the same city for over a week. And they never met! Sad but true. However, the story doesn't stay sad for long. It gets much happier!
After all the parties and events in Hong Kong, Holly went home to Alaska and Kath went home to New York. A few months later, Kath received a really neat Christmas card in the mail. It was from Holly. The card was part of the Christmas Cards for Jackie project that Kath was running on the Kids Corner. Kath was really impressed with the cute little drawing that Holly made. Here's what it looked like:
She wondered if maybe Holly could make some drawings for the Kids Corner. So Kath sent her an email and they began to talk about what Holly could do for the website. They talked about Jackie cartoons. Holly drew. Kath responded. Holly drew more. Kath wrote back. Eventually they decided on the perfect Jackie cartoon for the website. Willie loved the drawings and gave the go ahead to use them. And the rest is history.
Now Kath and Holly work together to give you the wonderful drawings you'll find sprinkled throughout the website. Imagine that. Two people connecting from thousands of miles away! Just another example of how Jackie Chan brings friends together.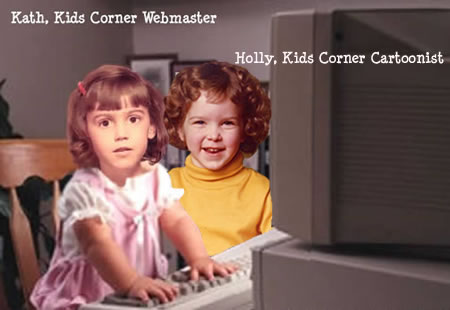 Click here to see the whole collection of cartoons!
KIDS CORNER FRONT PAGE / LATEST JACKIE NEWS / TOTALLY FUN JACKIE STUFF / OFFICIAL SITE HOME PAGE
©2003 Katharine Schroeder/Jackie Chan Kids Corner
No part of this website may be reproduced or distributed without permission