After we had the photos taken, Jackie turned around to us and told us to go back to our hotels and relax; that he'd see us later at the premiere. Here's Jackie waving goodbye and leaving: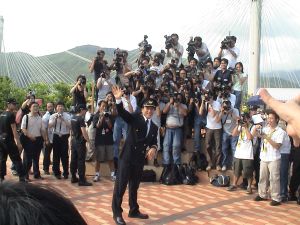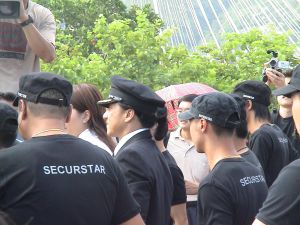 This special surprise event hosted by the Hong Kong Tourism Board was thrilling for all of Jackie's fans (and for all the surprised people at the airport and on the highway who caught an unexpected glimpse of Jackie). We were treated so well by everyone there: Jackie's staff, the Hong Kong Tourism people, and the photographers. Here's a photo of JC Group staff member Steven Chan walking around and making sure that everything ran smoothly: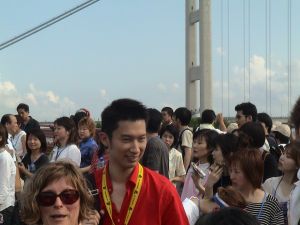 On behalf of all of the members of the Jackie Chan Fan Club for Kids, I'd like to say a big

The Hong Kong Tourism Board, Jackie's staff, and hanging around with Jackie are definitely some of the Totally Cool Things About Hong Kong!
Photos ©2003 Nic Schwark, Mark Schwark, Jeff Applebaum, and Katharine Schroeder
KIDS CORNER FRONT PAGE / LATEST JACKIE NEWS / TOTALLY FUN JACKIE STUFF / OFFICIAL SITE HOME PAGE
©2003 Katharine Schroeder/Jackie Chan Kids Corner
No part of this website may be reproduced or distributed without permission