March 28, 2006
Today is my last day in Hong Kong. Kath is going to put me in an envelope and send me back home. I am sad that I have to leave, but I am also excited that I will be going home. Kath says I am having "mixed feelings." I wonder if that's anything like the "mixed nuts" that Grandma keeps in a can in her kitchen. I guess it is. Maybe if a peanut is like sadness and a cashew is like happiness and you mixed them together in your mouth, that would be like "mixed feelings." Anyway, I can't wait to share my adventures with everyone.
I have had a wonderful time. Everyone at Jackie's office was so nice to me and Jackie is a very sweet man. He's also very clever and fun to be with. He told me that he loves kids and that he spends a lot of his spare time helping kids who are poor or sick. It's called "charity work." I told Jackie that I would try to help some poor or sick kids when I got back to America. That made him smile. He told me to study hard in school and to be nice to my parents.
So goodbye Hong Kong, hello America!! It's been a great trip.


Several weeks after Stanely was sent home, we received a note from his teacher in America. She told us that her class was very excited when they found out that Jackie Chan had written back to them. "Their little mouths stayed open as I read through the journal and showed the autographed picture. They were beyond excited and just amazed!"
She also told us how excited she was to hear about Jackie's commitment to education and his love for kids. She sent along photos of the beautiful display they created to tell everyone about Stanley's trip. Here are the photos: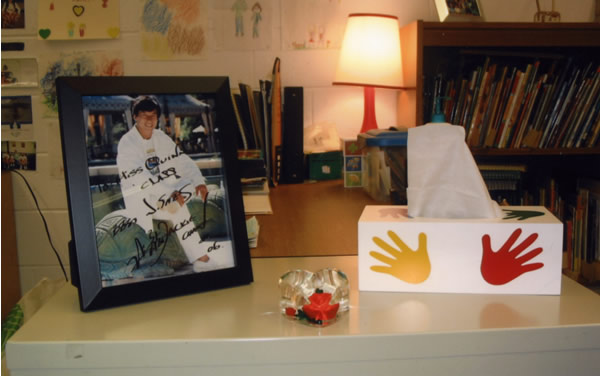 The autographed photo from Jackie was put in a special frame and given a place of honor in the classroom!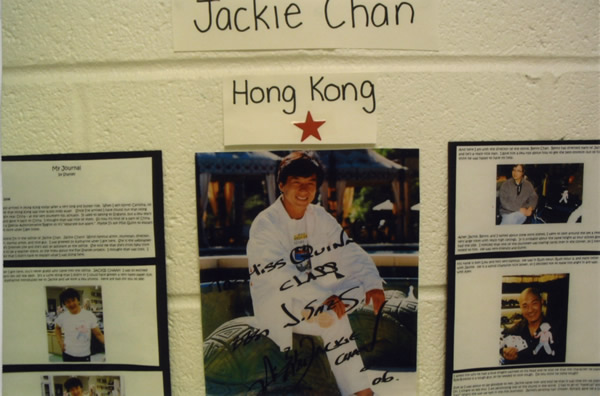 Their teacher mounted each of the journal pages and made a beautiful display for the hallway!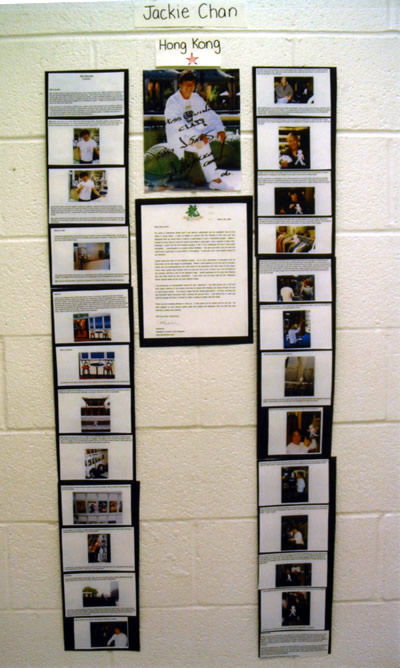 The hallway display.
Many thanks to Stanley's teacher and classmates for sending us the photos. Jackie really enjoyed taking part in the Flat Stanley Project and many of the ideas for the photos of Stanley came from Jackie himself. He was very excited about the project and told everyone on the set about it. Jackie really does believe in importance of education, and he shows that learning can be fun!
You can read more about the Flat Stanley Project here at their official website.
All photos ©2006 The JC Group
KIDS CORNER FRONT PAGE / LATEST JACKIE NEWS
TOTALLY FUN JACKIE STUFF / OFFICIAL SITE HOME PAGE
©2006 The JC Group
No part of this website may be reproduced or distributed without permission