The entry date for this contest is past. Please enter next year!
WHO IS JUDGING THE CONTEST?
Jackie's fans will judge the contest. All cards will be posted on the Kids Corner and visitors to the website can cast their votes by email.
WILL JACKIE SEE THE CARDS....REALLY??
Oh, you bet! Have a look at Jackie admiring last year's Christmas cards: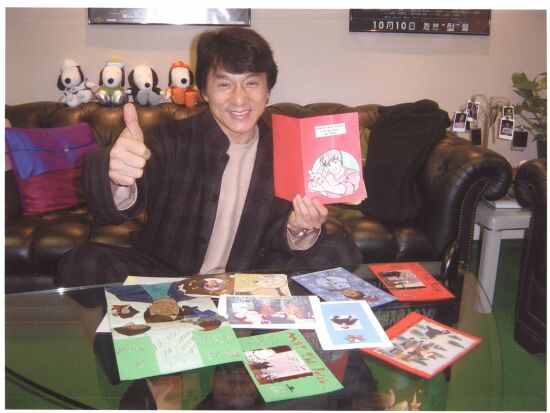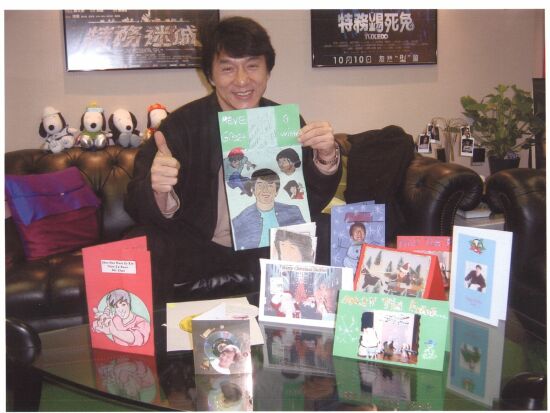 ARE THERE PRIZES?
Yes, there are prizes for first, second, and third place winners:
First Place will win a 2003 JC Group Calendar. Even though 2003 is nearly over, the calendar is HUGE and beautiful. It has 6 or 7 poster sized photos of Jackie and is a real collector's item.
Second Place will win a copy of "I Am Jackie Chan" in hardcover and a REAL autographed 3"x5" photo of Jackie.
Third Place will win a Rush Hour 2 Gift pack including a copy of Rush Hour 2 on VHS and a Rush Hour 2 water bottle.
IT'S NOT FAIR! WHAT ABOUT ADULTS WHO WANT TO MAKE A CARD TOO???
No problem! All adults are invited to make a Jackie Christmas card as well. You will not be eligible to win prizes, however. Your card will be scanned and posted on the website in a special section AND it will be sent to Hong Kong with the kids cards. Click here to see some of the cards sent in by adults last year!
I HAVE QUESTIONS ABOUT THE CONTEST. WHAT SHOULD I DO?
Just send an email to the webmaster at the Kids Corner. She'll answer all your questions!
Technical Junk To Read:
All entries become the property of The JC Group/Kids Corner and will NOT be returned. Your card may be used in future promotions and on the website in places other than the Christmas Card Contest pages. Only your first name will be used.
KIDS CORNER FRONT PAGE / LATEST JACKIE NEWS / TOTALLY FUN JACKIE STUFF / OFFICIAL SITE HOME PAGE
©2003 Katharine Schroeder/Jackie Chan Kids Corner
No part of this website may be reproduced or distributed without permission