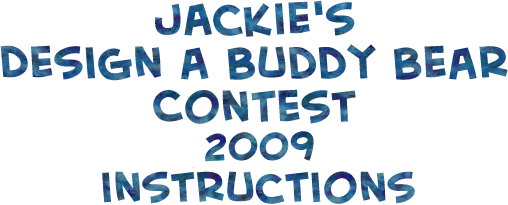 1. Print out one or more of the Buddy Bear outlines:
2. Color your Buddy Bear with your own original design.
3. Scan the design (please make it at least 800 pixels wide) and name the file like this: BB_Yourname_Yourage_Yourcountry.jpg.
For example, if your name is Brian, you're 10 years old, and you live in Scotland, you would name your file
BB_Brian_10_Scotland.jpg
If you send in more than one design, simply number the files like this:
BB_Brian_10_Scotland_1.jpg
BB_Brian_10_Scotland_2.jpg
(If you are over age 18, just use Adult as your age.
BB_Jessie_Adult_USA.jpg )
4. Email as an attachment to jckids@jackiechan.com . In your email, you must include your full name, mailing address, and country (in case you're a winner!) like this:
Jessie Jones
124 Main Street
Pleasantville, NY 11000 USA
DEADLINE IS JULY 31, 2009
5. That's it! If you'd like to name your design (example: "Summertime Buddy" or "Olympic Games Buddy") please do! Just tell us the name in your email.
You may enter as many designs as you like; just make sure you number the files if you send more than one. Everyone is welcome to enter the contest. Click here to see the prizes. If it's at all possible, the contest winners will be chosen by Jackie. If he is unavailable, JC Group staff will pick their favorites!

No part of this website may be reproduced or distributed without permission.