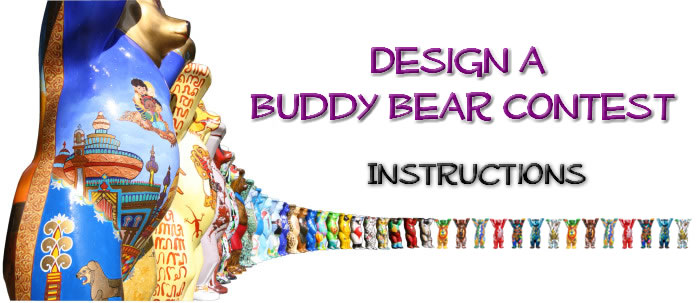 The Design a Buddy Bear Contest has officially ended!

A big "thanks" to everyone who sent in a drawing. Winners will be announced very soon!

The annual "Design a Buddy Bear" contest is back once again! Grab hold of your creative ideas and get ready to decorate these adorable Buddy Bears. The contest will be split into three different age groups:

* Kids (Age under 11)
* Teens (Age 12 - 18)
* Adults (Age 19 and over)

There will be three different empty bears for you to choose from (see images below). Just click on the Buddy Bear to download the blank bear, print it out, color the bear with your design, scan it, and then email it back to us with your name, address and details. Detailed steps on how to enter is outlined below.

When the contest has ended, Jackie and his JC Group staff will choose the winners from each age group.

To help keep the contest fair, we'd like to remind fans that we'll only accept original drawings and designs for the contest. If we see that your design is a copy of someone else's previous design, your entry will be disqualified.

Here are the Instructions:
1. Print out one or more of the Buddy Bear outlines:
2. Color your Buddy Bear with your own original design.
3. Scan the design (please make it at least 800 pixels wide) and name the file like this:

BB_Yourname_Yourage_Yourcountry.jpg.
For example, if your name is Angel, you're 13 years old, and you live in Brazil, you would name your file
BB_Angel_13_Brazil.jpg
If you send in more than one design, simply number the files like this:
BB_Angel_13_Brazil_1.jpg
BB_Angel_13_Brazil_2.jpg
(If you are over age 18, just use Adult as your age.
BB_Tom_Adult_USA.jpg
4. Email as an attachment to webmaster@jackiechankids.com .
Name the subject title of your email: Buddy Bear Contest

5. In your email, you must include your full name, mailing address, and country (in case you're a winner!) like this:
Tom Teddy
123 Standard Road
Melrose, California 10001
USA
DEADLINE IS AUGUST 02, 2014
5. That's it! If you'd like to name your design (example: "Summertime Buddy" or "Soccor Buddy"), please do! Just tell us the name in your email.

Everyone is welcome to enter the contest. Contest winners will be chosen by Jackie and his JC Group staff!

No part of this website may be reproduced or distributed without permission.